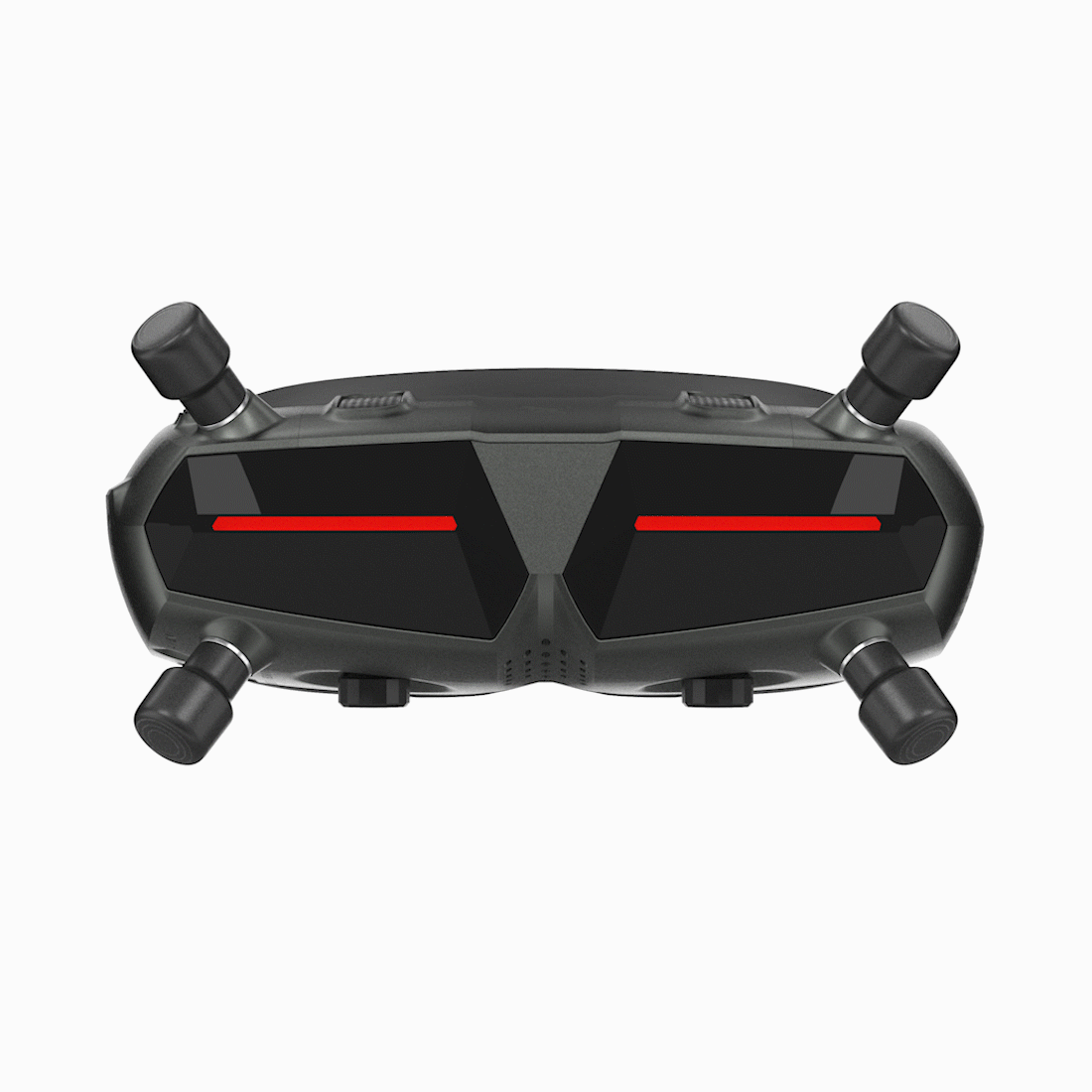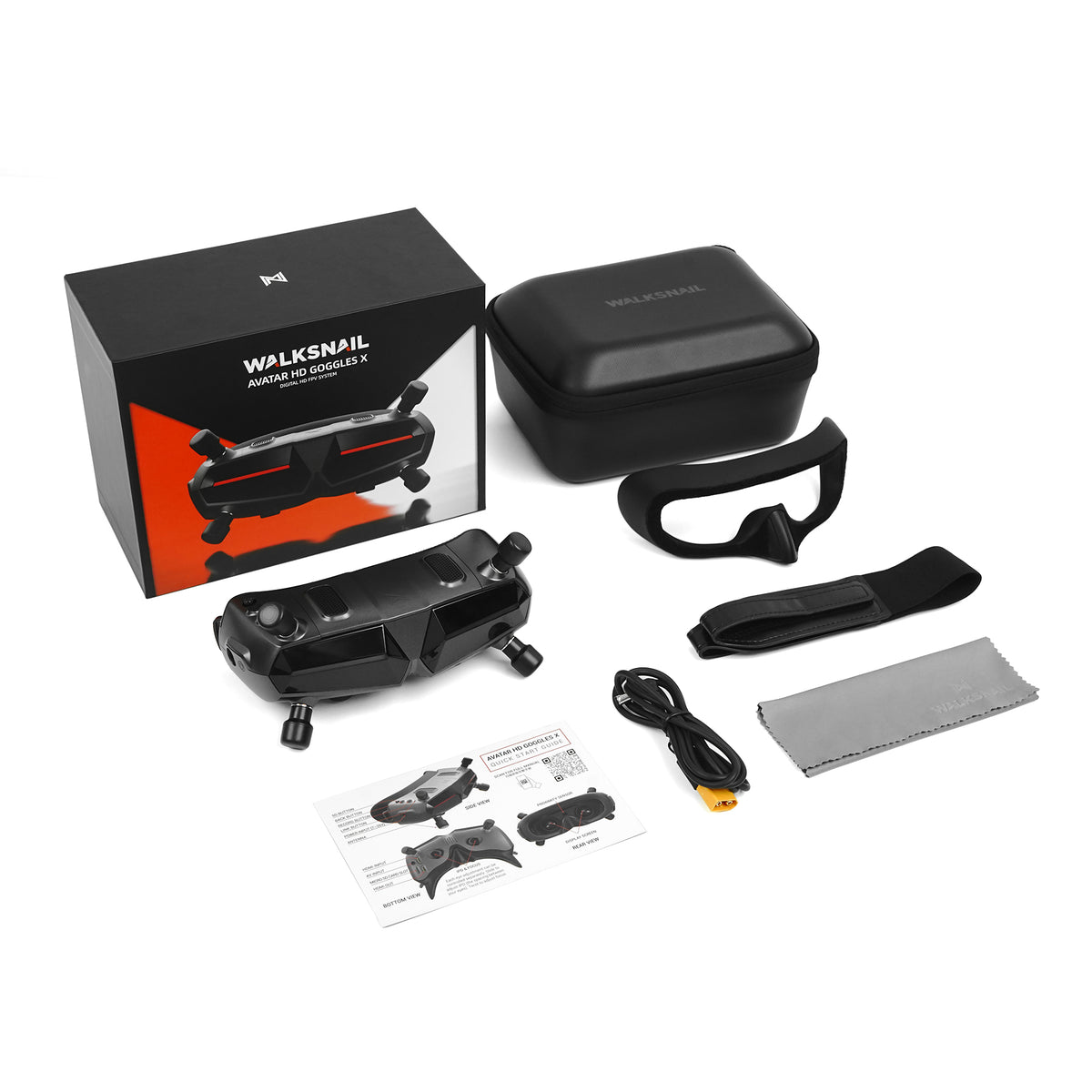 Walksnail Avatar HD Goggles X (Pre-order)
Regular Price

$459.00

Sale Price

$459.00

Regular Price

Unit Price

per
Variant:

Goggles X

SKU:

WN02-FP003
Product Features:

●Weight 290g


●

+2 to-6 diopter


●

FOV 50°


●

Lenses can be replaced


●

7-26V


●

1PD57~72mm


●

Front cover DIY


●

Infrared Sensing


●

1080P/100FPS


●

Sharing mode


●

HDMI input


●

Replace VRX


●

HDMI output


●

Built-in Gyro (in development)


●

AV in


●Built-in Bluetooth Wi-Fi module (in development)



Bullet Points for Walksnail Avatar HD Goggles X
The Avatar HD system utilizes industry-leading H.265 encoding technology to provide 1080p/100FPS FPV video quality with low latency, providing an immersive and responsive experience.
The goggles have an AV IN interface and support analog signals, support a versatile solution for FPV pilots.
The HDMI input expands the range of devices that can be used with the goggles, providing more flexibility and convenience. The HDMI OUT interface can be connected to other display devices to share your flight footage with pilots in real time.
The front cover of the goggles can be removed and replaced with new antenna, replacing the two antennas located under the goggles, which provides pilots with more options to optimize their FPV experience.
The cover above the goggles can be opened for easy replacement of new receiver modules, providing pilots with a cost-effective way to upgrade their goggles. Meanwhile, we are developing the next generation receiving module, which can achieve a breakthrough in flight distance, expected to reach 20 kilometers, and develop a sustainable development strategy.
The front cover of the goggles adds a light function, add a touch of style to your gear.
100% optical improvement, experience a clearer picture. 
Adjustable from +2.0 to -6.0 via diopter knob to personalize the viewing experience and easily go glasses-free.
The goggles use infrared sensing technology to provide pilots with a convenient and energy-efficient way to turn the screen on and off without manually pressing any buttons. This feature helping to extend the life of the screen. 
Lenses for astigmatism, myopia and blue light-blocking glasses can be replaced to meet different vision needs.
The front cover of the goggles can be DIY, allowing pilots to use their imagination to customize interesting looks for the goggles.
The goggles feature wide foam to provide pilots with a comfortable and secure fit regardless of different facial features, fits the face to reduce light leakage.
The goggles are designed to be lightweight, mini, small and carry 50°FOV, making more comfortable for pilots while giving them a more immersive FPV experience. 
The goggles have built-in gyro hardware, which can be used to develop Fixed-wing, RC cars and other scenarios.
The built-in Bluetooth Wi-Fi module allows pilots to connect their goggles to an app and access a range of features, including sharing their FPV experience on social media, wireless upgrading firmware, map mode for locating the drone, and live viewing goggles screen. This feature is around the corner.
FAQs
A: The receiver module can be replaced with a new one without the need to replace the goggles every year. The leading optical system currently on the FPV market, very clear; 2-year limited warranty; the most cost-effective FPV HD system.
A: Designed to be compact and lightweight so that pilots can carry it in their bags for outdoor flights at any time.
A: We also have another foam design available for purchase.
A: We are currently testing the app's features. Please stay tuned for updates.
A: Goggles compatible with most antennas
A: You can go to the "Download Center" to download files.
A: In order to give pilots a better experience, the optical part of the goggles requires a longer production time, And the goggles are produced in lower quantities. Currently, each order will be shipped within 15 days.
Contact Us
Order will be shipped within 15 days
Reply to customer messages within 48 hours
Protect customer data, pay securely
Provide high-quality services for global FPV enthusiasts