Happy Father's Day 2023
June 17 2023 – CADDX FPV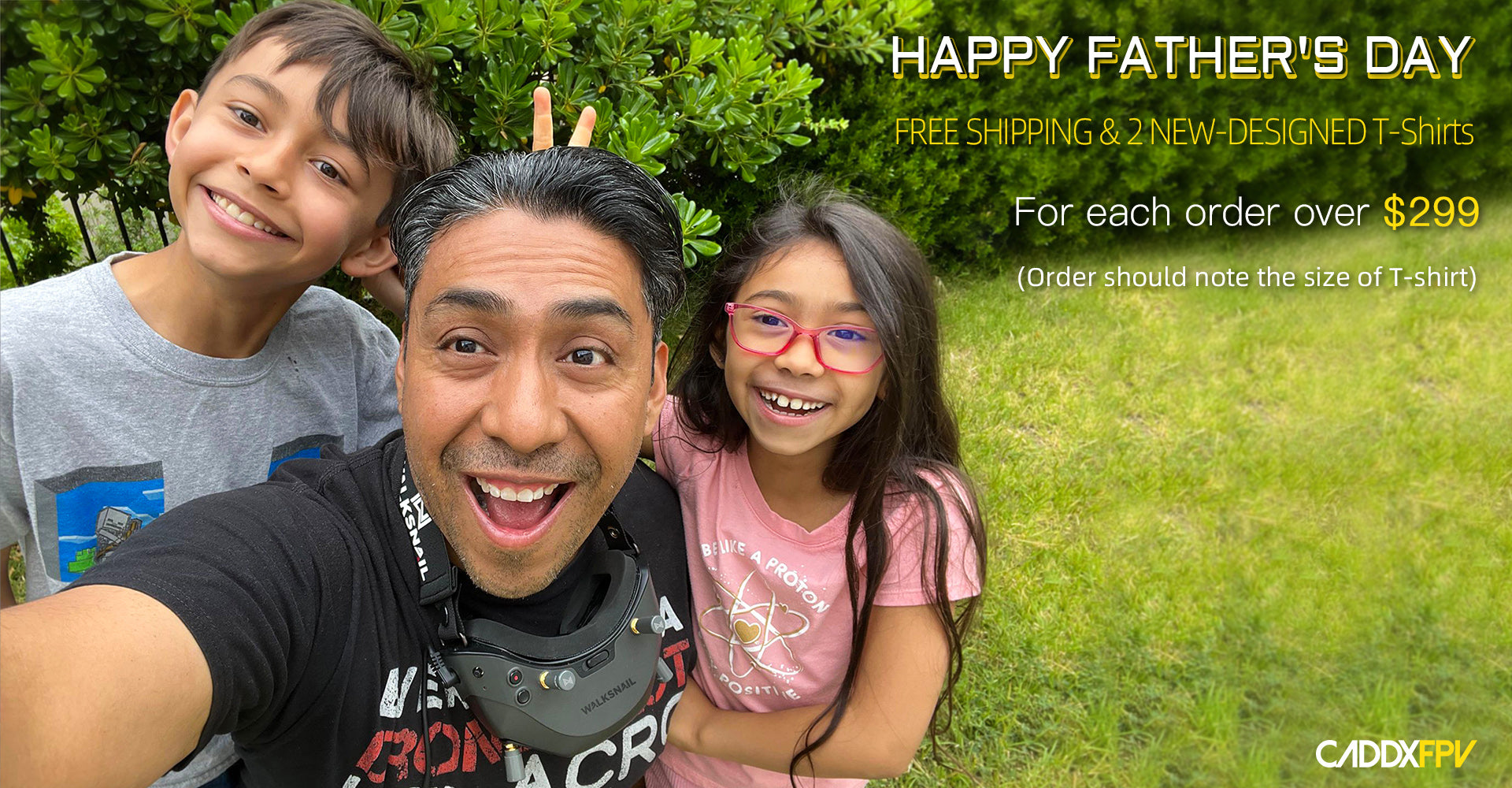 Happy Father's Day to all the superhero dads out there! 🥳 CADDXFPV want to take a moment to celebrate and express our heartfelt gratitude to the one who always wants the best for us, who stands as our protector, and who continues to inspire us every single day. Dad, you're simply the coolest! 🤘
To honor and show the highest level of respect and love for our amazing dads, we have an incredible offer for you. Receive 2pcs 
NEW-DESIGNED T-Shirts
👕 and 3pcs
Battery Straps
with every order over $299 as a special bonus! It's the perfect opportunity to surprise Dad with some fantastic gifts and let him know how much he means to you. 😘
But that's not all! We want to make this Father's Day even more memorable by giving you a chance to win the ultimate Big Prize for Dad. 🎉 Participate in our exciting Giveaway on
Facebook
and you could be the lucky winner of the
Walksnail Avatar System X and the BetaFPV Meteor75 Pro!
Imagine the thrill on Dad's face when he receives this incredible drone combo! 💝
Entering the giveaway is simple. Just follow these steps:
1.Like the post to show your support.
2.Join our Walksnail group and become a part of our amazing community.
3.Share the post to spread the love and give more dads a chance to win.

The winners will be announced on June 23rd at 6:30 PM, PST. Stay tuned to our Facebook page for the exciting reveal. 📣
A quick note: please make sure to specify the size of the T-shirt you'd like. Orders without a specified size will be shipped in XL size, so don't forget to mention it to ensure the perfect fit! ❣
Before we conclude, we want to extend a special thank you to @Efrem Escobar for capturing this beautiful moment in the photo. Your talent and creativity have truly added an extra touch of love to this Father's Day celebration. 🥰
Let's make this Father's Day one to remember! Take this opportunity to honor and appreciate your dad, and let's celebrate the remarkable bond between fathers and their children. Happy Father's Day to all the incredible dads out there! 🙌🎉