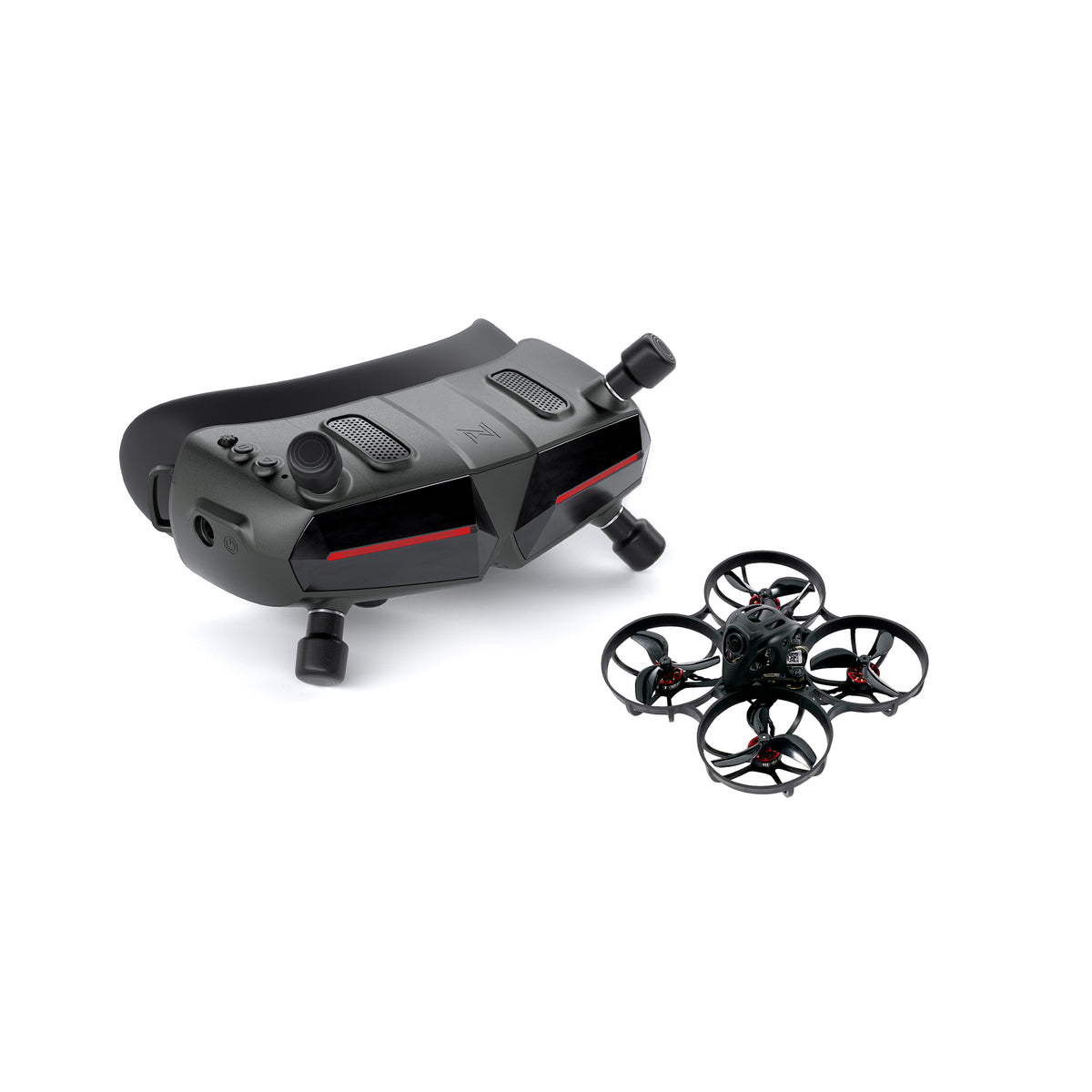 Walksnail Avatar System X BetaFPV Meteor75 Pro
Regular Price

$599.00

Sale Price

$599.00

Regular Price

$688.99

Unit Price

per
 Learn more about Walksnail Avatar HD Goggles X 
The new epic 1S HD digital whoop quadcopter boasts impressive visuals and powerful performance. Upgraded frame from Meteor75 and 45mm props make it the largest 1S whoop quadcopter with greater thrust and lift, equipped with a lighter 1.1g canopy, easy to carry the Walksnail Avatar System, bringing immersive flight experience and impactful images to the pilots. Combined with F4 1S 5A FC, 1102 22000KV motors and new larger BT2.0 550mAh 1S battery, it makes the Meteor75 Pro HD quadcopter faster, more responsive, and flight time, which would be ideal for FPV racing or acrobatic flying indoors or outdoors.
Bullet Points
The upgraded frame that fits

 

45mm props

 

perfectly makes Meteor75 Pro the largest 1S whoop drone. Powered with

 

1102 22000KV motors, it performs smoothly in the air and is maneuverable for freestyle tricks.
It features a roomier battery slot that can accommodate a bigger battery such as

 

BT2.0 550mAh 1S battery, which provides a larger capacity and higher discharge rate, bringing more flight time and robust flight performance to the quadcopter.
Ultralight weight for Meteor75 Pro HD 35.77g (Walksnail) , this largest 1S drone combined with Walksnail Avatar System gives pilots an immersive flight experience and impactful visuals.
Micro Canopy Lite

 

has an adjustable camera lens of 0-40°. This new canopy weighs only 1.1g, which is very suitable for HD digital VTX drone, and the open design makes the electronics cooler better.
Equipped with

 

F4 1S 5A flight controller

 

(Serial ELRS 2.4G or SPI Frsky). The ELRS 2.4G RX version comes with the default ELRS V2.0 firmware and supports being upgraded to ELRS V3.0 separately without flashing Betaflight flight controller firmware. The SPI Frsky version can be also used as the PNP version to connect external receiver due to the two UART ports on the board.
The various colors of the spare parts including the

 

Meteor75 Pro frame and Micro Canopy Lite, offer pilots more choices. Using them with BETAFPV waterslide decals, pilots can easily DIY and build their unique whoop drones.
Specification
Note: Please make sure that the battery voltage must be 3.1V at least when flying, otherwise, the HD digital VTX would stop working.
Meteor75 Pro HD VS Meteor75 HD
Upgraded from Meteor75 HD, the Meteor75 Pro HD is the largest 1S HD digital whoop drone with 45mm propellers, which is able to generate more thrust and lift. It comes with a 1.1g Micro Canopy Lite, a 550mAh larger battery, and higher KV motors. The total weight of Meteor75 Pro HD is lighter than Meteor75 HD, making it more agile and easier to handle.
HD Digital VTX System
The Walksnail Avatar HD Mini 1S Lite uses H.265 high-efficiency video coding, an industry-leading technology, providing 1080P/60FPS image recording with 22ms ultra-low latency. It is specially designed for 3.1-5V power input and 7.8g lightweight, compatible with 1S whoop drone. Built-in 8 GB storage, this VTX has the capability of recording HD video without interference from capacity and exporting video by USB cable. Besides, with Canvas Mode, Betaflight full OSD display is supported and can be adjusted easily by remote control.
Note: Recommend Walksnail Avatar Goggles and Walksnail Avatar VRX for Meteor75 Pro Walksnail HD version.

Powerful 1S Drone Combo
Even carrying the HD digital VTX system, Meteor75 Pro HD still performs well in power and speed thanks to its upgraded frame that is suitable for 45mm props, allowing it to be the largest 1S power whoop drone with greater thrust and lift. Fit out with 1102 22000KV motors and BT2.0 550mAh 1S battery, this 1S drone combo has an excellent thrust-to-weight ratio performance and provides an immersive flight experience to pilots.
Flight Controller
The latest F4 1S 5A flight controller is applied to all BNF versions of Meteor75 Pro HD. It features Serial ELRS 2.4G instead of SPI ELRS 2.4G for ELRS version compared to the previous version. The Frsky version reserves two UART ports for the available external receiver so it can be used as PNP. The ESC on the new board is powered by BB51 hardware in place of BB21. Last but not least, we update the gyro to BOSH BMI270 for better performance and stability since the new F4 1S 5A FC.
BETAFPV
 

Meteor75 HD (ELRS)

FC Inside

F4 1S 5A FC (Serial ELRS 2.4G) V2.0

Gyro

BMI270

FC Firmware

BETAFPVF411

UART Port

One UART Port

External RX

Not Supported
Package
1 * Meteor75 Pro Brushless Whoop Quadcopter
2 * BT2.0 550mAh 1S Battery
1 * Type-C USB Cable
1 * BT2.0 Battery Charger and Voltage Tester
4 * 45mm 3-Blade Props (1.5mm Shaft)
1 * Screwdriver
1 * Pack of Screws
1 * Walksnail VTX USB Cable 
1 * Walksnail Avatar goggles X
Note:
Q: When will it be shipped?
A: In order to give pilots a better experience, the optical part of the goggles requires a longer production time, And the goggles are produced in lower quantities. Currently, each order will be shipped within 15 days.
Shipping
At CADDXFPV, Our mission is to provide quality FPV accessories to pilots around the world at truly affordable prices. Let you feel the fun of FPV.
Your equipment may be coming from Shenzhen, China, depending on the equipment purchased. Your specific delivery date will depend on the dispatch country and delivery address.
If you can't place an order, it doesn't mean we can't ship to your address, it may be caused by platform issues, please contact us
Most orders are eligible for free shipping for orders over $299. If the product is relatively large, such as goggles, we will not offer free shipping . Thank you for your understanding.
Regarding order processing and shipping times:
1、Most items are usually shipped within 2-3 working days. 
2、The logistics tracking number will be uploaded within 2~3 working days after shipment and notify you by email message.
If you do not receive the logistics tracking number within 5 working days after purchase, please contact: service@caddxfpv.com
3、Detailed country delivery times in most cases:
| | | |
| --- | --- | --- |
| North America | Standard shipping |  DHL/FedEx/TNT/UPS |
| United States | 10~20 days | 5~7 days |
| Canada | 8~15 days | 5~7 days |
| US hawaii | 20~30 days | 10~15 days |
| South America | Standard shipping | DHL/FedEx/TNT/UPS |
| Brazil | 11~25 days | 7~12 days |
| Chile | 13~20 days | / |
| Argentina | / | 10~15 days |
| | Standard shipping | DHL/FedEx/TNT/UPS |
| European Union | 8~15 days | 5~7 days |
| United Kingdom | 7~13 days | 6~10 days |
| Other Countries | Standard shipping | DHL/FedEx/TNT/UPS |
| Iceland | 15~20 days | 10~15 days |
Notes:
 Usually according to the address, the delivery time is a little different, the above is the average delivery time we send to the local country.
If the address where the order is placed is considered by the logistics provider to be a remote area, you need to pay the shipping fee again, and if the address that cannot be delivered, a refund will be made.
 If your address is a remote place/small island/archipelago, the delivery time needs to be extended by 5~10 days. You can also choose to contact: service@caddxfpv.com to find out whether the delivery can be successful.
If after 15 days, you have not received your package, please contact me, I will help you solve any problems.
If you are a country with strict customs, please choose standard shipping.
In the case of purchasing the same product, we will give priority to processing and delivery to customers who choose DHL/FedEx/TNT/UPS(Expedited Shipping).
On the first and last day of each month, our warehouse will check the inventory and will not process orders and deliveries.
We usually process orders and shipments from Monday to Friday. If you send us any messages on weekends, you may not get a timely response. Thank you for your understanding.
Countries to watch out for:
Israel: Unless you choose to buy accessories, you need to choose DHL/FedEx/TNT/UPS(Expedited Shipping) for delivery.
Indonesia、Chile、Brazil、Turkey and Argentina need to provide a tax ID number, please remember to fill in the relevant tax ID number in the second column of the address
South Africa requires a personal identification number.
India: We are able to ship normally to this country

South Korea: Customs clearance code, Korean name and phone number are required, and these information need to be consistent with the registration information
You can apply for it from the below link if you do not have one.
https://unipass.customs.go.kr/csp/index.do
4、We do recommend allowing up to 3 weeks for your order in peak times, such as a special offer、promotion or new product . Delivery times are beyond our control but rest assured, we only work with reliable manufacturers and suppliers to provide you with the best possible service.
How do I track my order?
Your delivery confirmation email will contain your tracking number and order details. 
You can find Track Your Order on this website to check the delivery status of your order or you can also put your order tracking number in the following URL
Taxes and other charges
Depending on the country of delivery, you may be required to pay extra tax or charges such as VAT and/or import duties.We can normally deliver products to most countries, if you are not sure, please contact us.
If you choose the standard shipping option, the package is tax-included (suitable for most areas, except for remote areas and special cases)
If you choose DHL/FedEx/TNT/UPS shipping, you need to pay extra tax, but the delivery is faster.
If it shows that it cannot be delivered to the delivery address you filled in, please contact me, and I will re-check and set the corresponding regional delivery content.
If you have any questions or concerns about your order,
Please contact :service@caddxfpv.com

If you have any questions or concerns about the product or after-sales service,
Please contact :support@caddxfpv.com

Our team will assist you with any assistance during the working day.
Top Videoquality
For such a tiny drone, it is a very good video quality in the goggles with ealksnail. Flightperformence is even good.