Walksnail Avatar System: A Complete Guide
June 17 2023 – CADDX FPV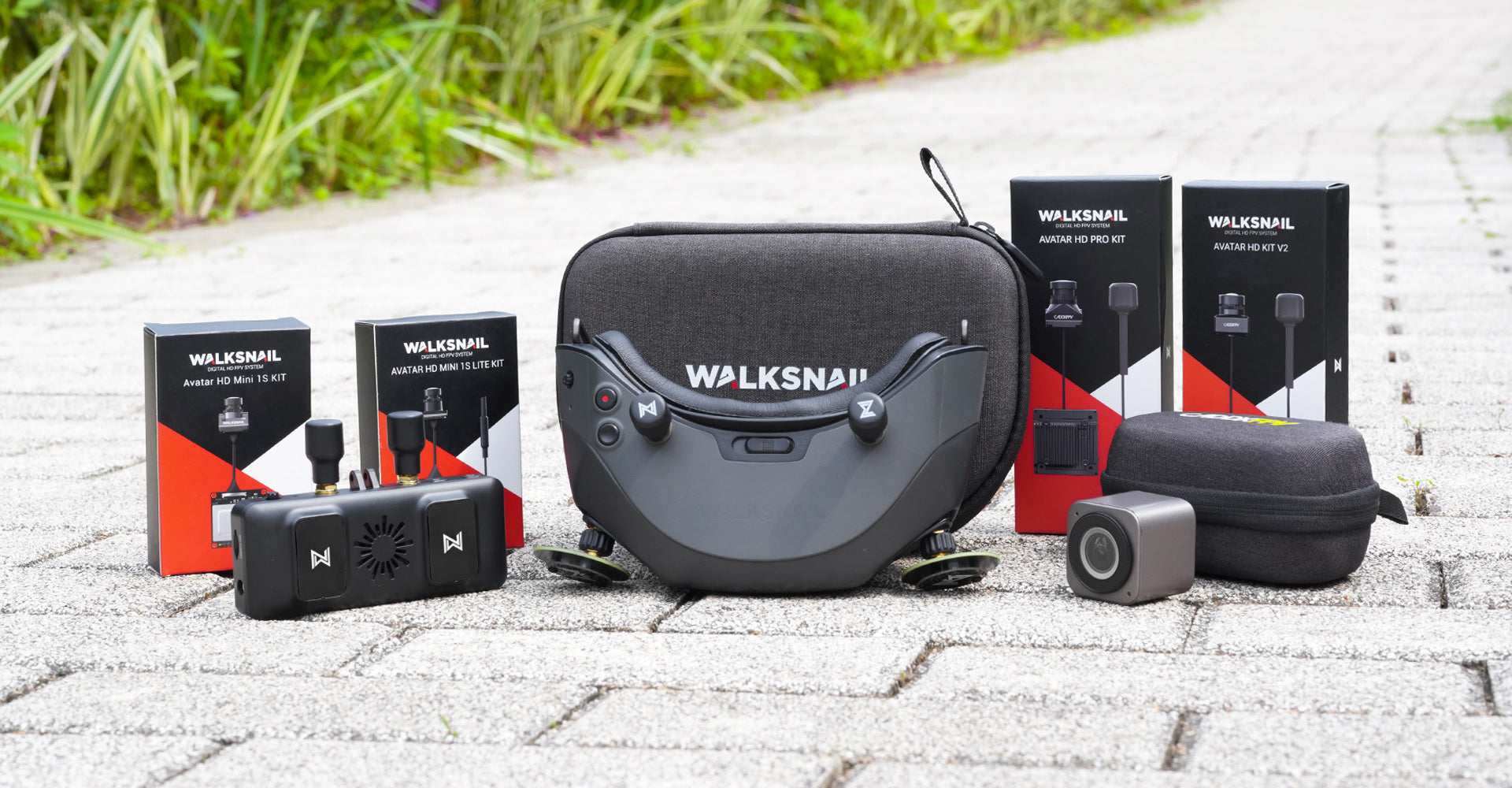 Walksnail Avatar System is a highly regarded product that incorporates advanced technology and design concepts in the rapidly evolving FPV industry, offering pilots an exceptional flying experience. Here is a comprehensive guide to Walksnail Avatar System:
Walksnail Avatar System combines advanced technology and design concepts to deliver an ultimate flying experience for pilots. It takes pilots feedback into account and continuously improves the system to better meet pilots needs.
Walksnail avatar system provide a first-person perspective and immersive experience for pilot. It allow pilots to build it on their drones, quadcopters, fixed-wing aircraft, RC cars. It primarily consists of Walksnail Avatar HD Goggles (or Walksnail Avatar VRX), Walksnail Avatar HD VTX, and Walksnail Avatar HD Camera.
Key advantages of Walksnail Avatar System include:
   - Average latency of only 22 ms, reduced to 18 ms when using 50mbps.
   - Support for FULL CANVAS MODE, displaying real-time flight parameters.
   - Compatibility with multiple flight controllers, including betaflight, INAV, KISS, Fettec, ArduPilot, and others.
   - Video transmission supports 1080p/60fps and 720p/100fps, with future support for 4K recording.
   - Video transmission supports wide voltage output, compatible with 6S batteries, and features a compact and lightweight design.
   - Output power of 1200mw, enabling long-range flights.
   - Built-in 8GB/32GB storage for high-definition recording, making it an ideal choice for whoop drone.
   - Supports 25*25mm and 20*20mm mounting holes.
   - HDMI output for direct connection to displays, facilitating live streaming.
   - Equipped with OLED 1080P 100FPS display screens on the goggles, providing superior image quality and an immersive experience.
   - Compact and stylish goggles design, lightweight and aesthetically pleasing.
   - Utilizes H.265 encoding and decoding technology, resulting in lower latency and higher resolution.
   - System supports distance detection and search mode, making it easier to locate a lost drone by narrowing down the search area.
   - Frequent firmware updates that actively incorporate community feedback and stay closely aligned with pilots requirements (such as, adding 20*20mm mounting holes, built-in 32GB storage, sharing mode, etc.).
How to choose Walksnail Avatar System equipment?
- For pilots new to FPV, selecting Walksnail Avatar System directly from the Drone Market is a cost-effective option that allows for a better experience with Walksnail Avatar System.
- If you already own analog goggles with HDMI input and have a limited budget, choosing Walksnail Avatar VRX is recommended.
- For frequent participants in races, it is advisable to purchase Walksnail Avatar HD Kit V2. This kit features a 2K pixel, 4:3 native sensor for improved image quality and a native 4:3 aspect ratio. Additionally, for those interested in experiencing nighttime scenery, Walksnail Avatar HD Pro Kit is an excellent choice as it is the first high-frame-rate night vision HD camera in the FPV market.
In the future, CaddxFPV will continue to strongly support Walksnail Avatar System. CaddxFPV actively participate in drone races and exhibitions, whether domestic ones like China Drone Selection Competition and Hobby Expo China 2023, and International competitions such as French FPV Races. CaddxFPV will never stop their steps to explore FPV digital world.