Review: Walksnail Avatar HD Pro/V2 Kit
March 22 2023 – ddaniel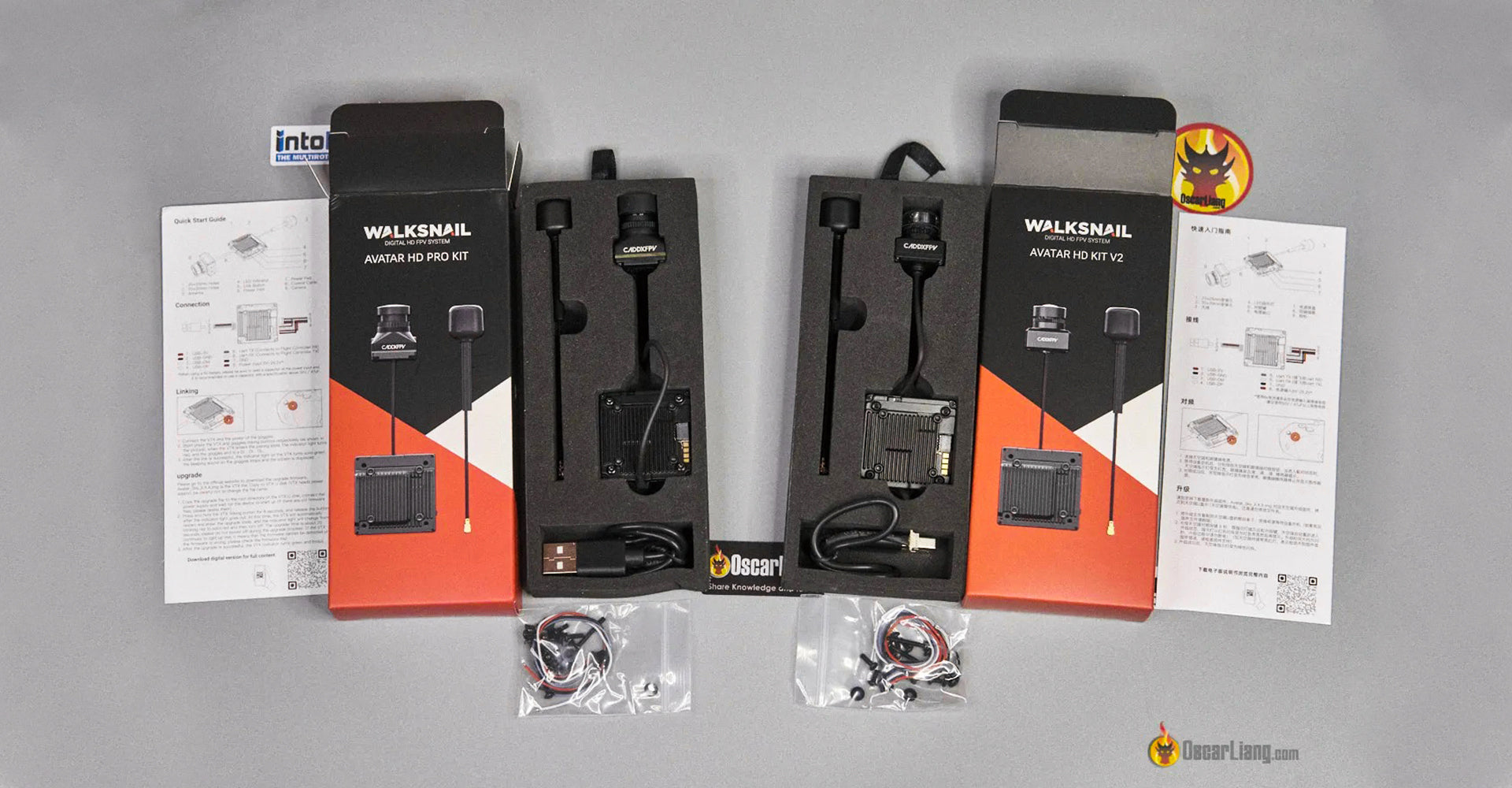 In the box it comes with the following accessories:
USB transfer extension cable X1

4 Pin silicone cable X1

M2*4mm screws X8

M2*5mm screws X4

M2*6mm screws X4

M2*14mm screws X4

M2*5*0.5mm gasket X4
Walksnail just released two new Avatar VTX and Camera Combos feature a complete overhaul with plenty of user-friendly new improvements, including two new 4:3 cameras and an option to support Gyroflow. Plus, the increased 32GB storage capacity means you can capture more stunning footage than ever before. I'm excited to share all the exciting new features with you, so let's dive in!
Upgraded VTX Module Features
Larger Internal Storage
The new Avatar HD Pro and V2 Kit come with a revamped VTX module that boasts several new features and improvements over the previous version. First and foremost, the original Avatar HD VTX had only 8GB storage, which was just enough for around 20 minutes of 1080p footage. However, the new version now offers an upgraded 32GB version that can hold up to four times more recording time.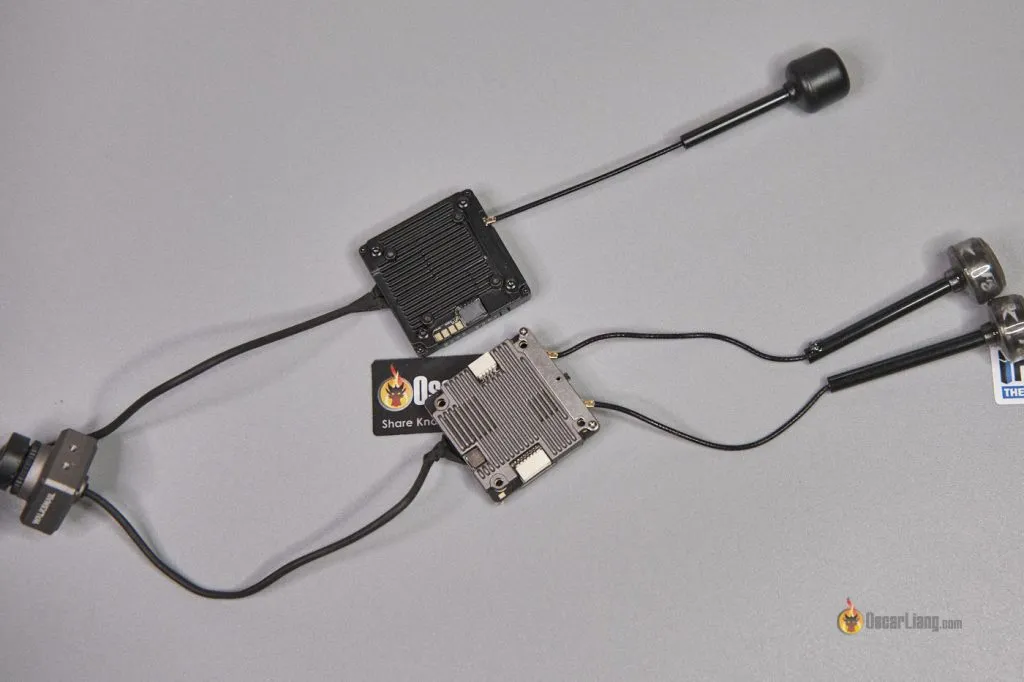 Gyroflow Support
Another impressive feature of the new VTX is the integration of Gyroflow, which offers image stabilization. However, it's important to note that only the 32GB version has a Gyro sensor, while the 8GB version doesn't.
The Gyro data is recorded along with the video in a .gcsv file.
Load the gyro data and video file separately in Gyroflow, there's currently no lens profile presets for the new cameras yet.
Grounded Heatsink Less Interference to GPS
Another major upgrade is the improved heatsink, which is now properly grounded to reduce interference and make GPS lock faster. The updated PCB design and heatsink also make it more durable than the previous model.
The thickness of the V2 VTX is about the same as the V1, but the threaded 20x20mm mounting holes protrude out of the heatsink.
Solder Pads
Apart from the JST connector, you now have the option to direct solder the VTX to your flight controller with the solder pads.
20x20mm Mounting
The new VTX module also offers more convenient and flexible installation and greater compatibility with a wider range of FPV drone frames. Apart from the original 25mm x 25mm mounting holes, the kit now includes 20mm x 20mm holes.
User-friendly Improvements
Additionally, the new design has optimized the location of the bind button, making it easier to access, which is a welcome improvement for users who found the button hard to locate on the original VTX.
Furthermore, they no longer using tiny screws to hold the camera ribbon cable and antenna connector in place, instead they are now using proper M2 screws and nuts which make the VTX easier to maintain and repair.
Two New Cameras
Both new cameras have a 4:3 image sensor instead of 16:9 as in the previous version. If you use 16:9 in the goggles (currently the default settings), you will get less field of view, so make sure to set it to 4:3. This is also a good improvement for the newly added Gyroflow support, as it will crop less of the image when it's being stabilized.
Smaller Connector for USB Cable
The Avatar V2 VTX is now using a smaller connector for the USB cable, previous cable is no longer compatible.
And still you cannot access the internal storage without plugging in the LiPo battery. It's also worth noting that every VTX from Walksnail (V1, V2, 1S Mini, and 1S Mini Lite) now uses a different USB adapter cable, so make sure to save all these cables to avoid any issues when downloading footage and updating firmware in the future.
Specifications
Walksnail Avatar HD kit V2
Camera: Avatar V2 Camera
Image Sensor 1/3.2-Inch 4Mp 4:3 native sensor
Resolution 1080P/120fps support,1080P/100fpssupport,1080P/60fps,720P/120fps,720P/60fpsRatio 4:3 native/16:9
Lens 2.1mm
FOV 160°
Aperture F2.0
Rolling shutter
Camera cable 140mm
Option for Gyroflow Support
4KM range
Option for 8G or 32G internal storage
Connectors: JST1.0 4-pin (Power in), JST0.8 6-pin (USB)
Mounting holes: 25.5*25.5mm; 20*20mm
Input Voltage: 6V-25.2V
Supported FC System: Betaflight, Inav, KISS, Fettec, ArduPilot
OSD: Canvas mode
Camera Dimensions 19*19*22mm
VTX Dimension: 33*33*10.5mm
Weight: 29.5g (camera 7.5g, VTX 19g, antenna 3g)
Walksnail Avatar HD Pro kit
Camera: Avatar Polar Pro Camera
1/1.8 inch Sony Starvis Ⅱ sensor
Resolution 1080P/60fps,720P/120fps,720P/60fps
Ratio 16:9 / 4:3
Lens 8MP
Rolling shutter
FOV 160°
Aperture F1.6
Min. Illumination 0.0001Lux
Camera cable 140m
4km Range
Gyroflow Support
Built-in 32G storage
Connectors: JST1.0 4-pin (Power in), JST0.8 6-pin (USB)
Mounting holes: 25.5*25.5mm; 20*20mm
Input Voltage: 6V-25.2V
Supported FC System: Betaflight, Inav, KISS, Fettec, ArduPilot
OSD: Canvas mode
Camera Dimensions 19*19*24mm
VTX Dimension: 33*33*10.5mm
Weight: 32g (Camera 10g, VTX 19g, antenna 3g)
The Avatar HD Pro camera is great for daytime flying as well as low light thanks to the Sony night vision camera. It's called the Avatar Polar Pro Camera, so I guess it's for similar role as the Caddx Polar camera they previously released for the DJI system.
Avatar V2 antenna
Polarization LHCP
Frequency range 5600MHz-6000MHz
Gain 1.9dBi
VSWR <1.5
Input Impedance 50Ω
Connector: IPEX-1
Size 15x45mm (without cable)
Weight 2g
Dimensions of the Pro camera and Avatar V2 VTX: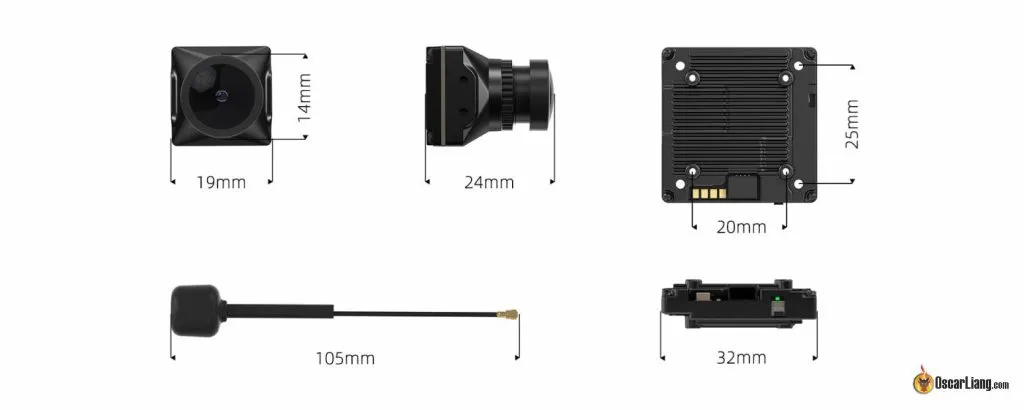 Wiring/Pinout diagram of the Avatar V2 VTX, connectors are JST1.0 4-pin (Power in), JST0.8 6-pin (USB).
Testing
All VTX were updated to the latest firmware provided by Walksnail (32.37.8) for this test as recommended by Walksnail.
The new cameras have native 4:3 image sensors. Unfortunately I was only given the specs of the cameras 2 hours prior to the product release, that's why I was initially testing them in 16:9 assuming they were 16:9 cams like the V1. That's why the new cameras have smaller FOV in the test. I will retest it in 4:3 mode when it stops raining here.
Conclusion
If you're interested in getting into Avatar and wondering how to set it up, you can check out this comprehensive guide: https://oscarliang.com/setup-avatar-fpv-system/
Walksnail is trying to catch up with DJI O3 by offering all these exciting new features that the Avatar VTX and Camera combo provides, such as Gyroflow support, 20x20mm mounting, 4:3 image sensor, single antenna and more. They even do certain things better than DJI, such as the much smaller VTX and Camera form factor, and the more budget-friendly price! However, they are still lacking in some aspects like an SD card slot for storage expansion and 4K recording. Regardless, it's great that Walksnail is trying to be competitive and offers a viable alternative to DJI.
Article Source:oscarliang.com