The Evolution of Walksnail Avatar System's Products
September 01 2023 – CADDX FPV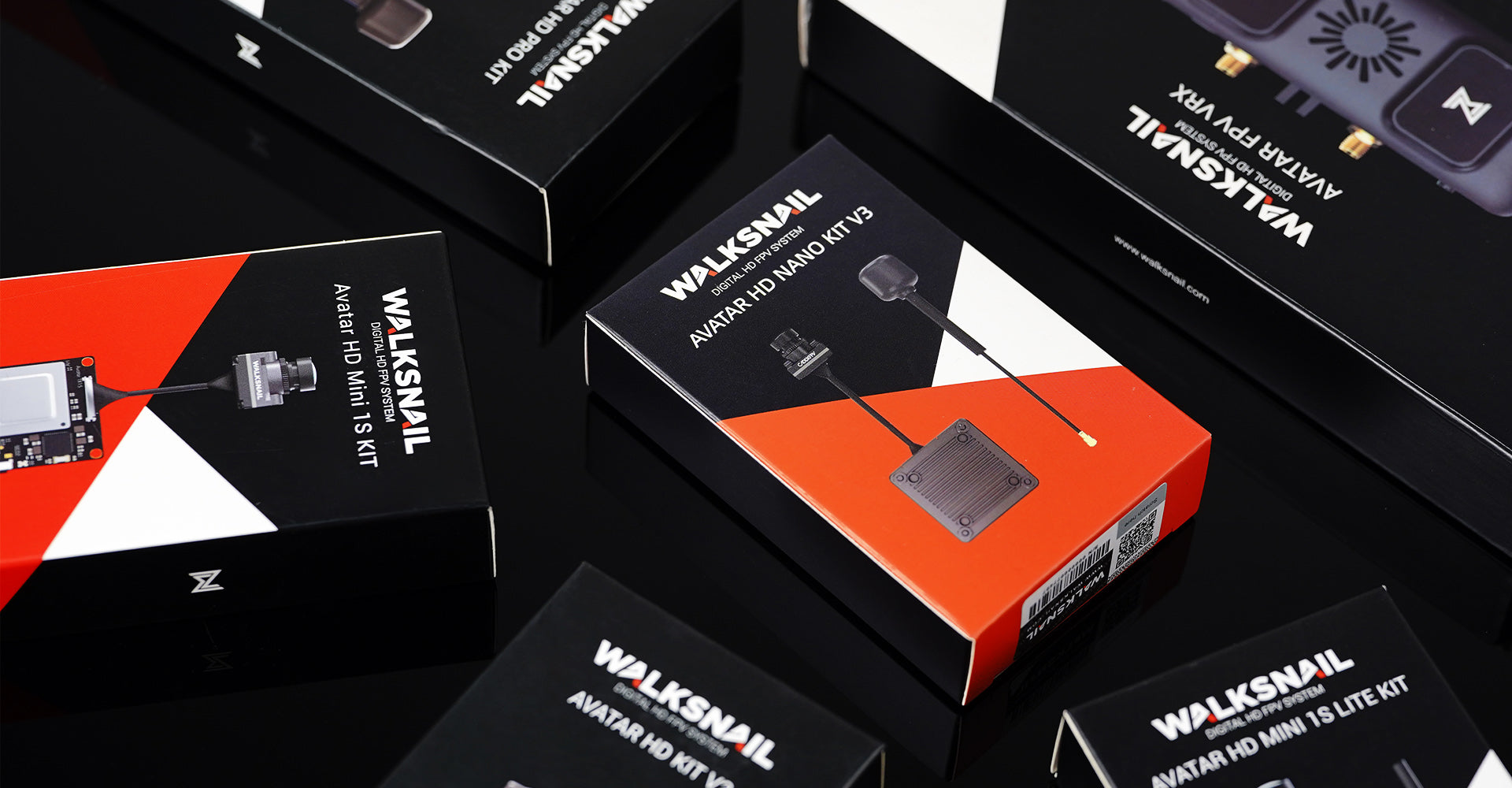 In this blog post, we will introduce the iterative information and key parameters of Walksnail Avatar System's products to help new FPV pilots better understand our products and avoid confusion.
Note:
The following iterative information is only edited for obvious changes
. In other aspects, CADDXFPV developers have also optimized, such as: PCB board, button position, materials, etc.
Product Iteration:
1. Walksnail Avatar HD VTX → Walksnail Avatar HD VTX V2
32G built-in storage

Except the original 25*25mm mounting holes, now added 20*20mm

Updated the design of PCB board and shell, improved the quality of VTX, more durable
Optimized the installation place of the antenna, it's better to protect the VTX
The position of the frequency binding button has been changed, to make the frequency binding operation more convenient
The kit includes a spare power pad, providing an extra opportunity for welding
New VTX with enhanced TVS protection and support for up to 6S
2. Mini 1s VTX(V1) → Mini 1s VTX(V2) →Mini VTX V3
First iteration: Sizes from 33mm to 30mm
Second iteration: 3.1V-5V, Power 350mW→3.1V-13V, Power 500mW
3. Micro/Nano Camera(V1) → Micro/Nano Camera(V2)
changed color(gray to black)
14*14mm camera parameters
Nano Camera

 Lite Camera

Nano Camera V3

Image Sensor

1/2.7"1nch

1/2.7"1nch

1/3.2-Inch 4Mp 4:3 sensor

Ratio

16:9/ 4:3

16:9/ 4:3

4:3 native/ 

16:9

Lens

2.1mm

2.1mm

2.1mm

FOV

170°

170°

160°

Aperture

F2.0

F2.0

F2.0

Weight 

3.5g

1.8g

3g
19*19mm camera parameters
Micro Camera

Camera V2

Pro Camera(night vision camera)

Image Sensor

1/2.7"1nch

1/3.2-Inch 4Mp 4:3sensor

1/1.8-Inch Sony Starvis 

Ⅱ

 sensor

Ratio

16:9/ 4:3

4:3 native/ 16:9

16:9/ 4:3

Lens

2.1mm

2.1mm

8Mp

FOV

170°

160°

160°

Aperture

F2.0

F2.0

F2.0

Min.Illumination

0.001Lux

0.001Lux

0.00001Lux

Gyroflow

Not support

Supported

Supported

Weight 

6g

7.2g

8.5g
July update:The VTX of Walksnail Avatar HD Mini 1s Lite Kit and Walksnail Avatar HD Mini 1s Kit has been upgraded to Mini VTX V3