Review: Walksnail Avatar HD Mini 1S Lite Kit (Ultra-Lightweight Camera/VTX Combo for Micro Drones)
April 12 2023 – CADDX FPV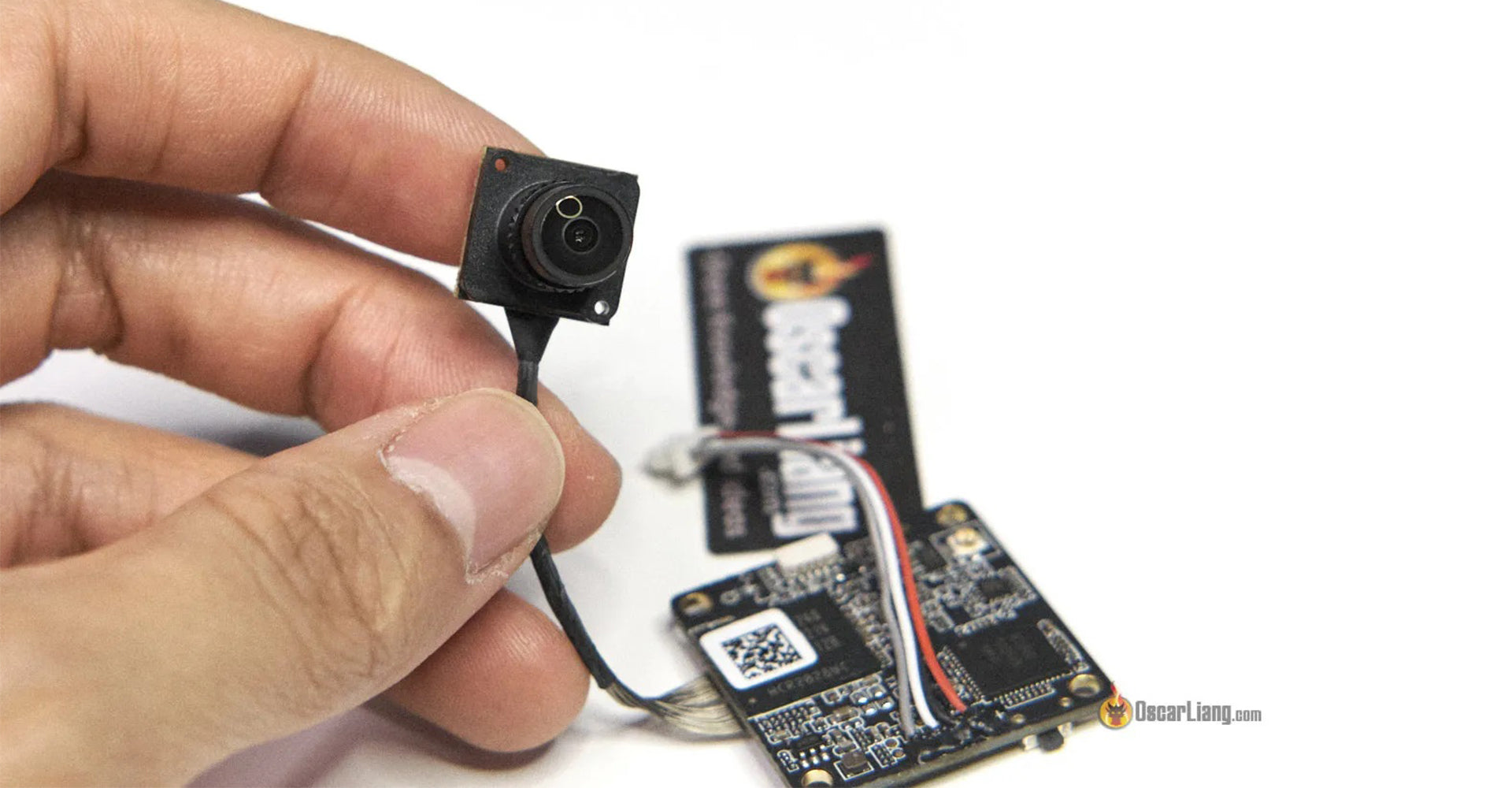 The Walksnail Avatar Mini 1S Lite Kit is tailor-made for micro FPV drones. Boasting weight reductions and enhanced durability with the same specs and performance as its predecessor, this new kit is great for tiny whoops and toothpicks. In this review, we'll delve into the features of the Walksnail Avatar Mini 1S Lite Kit and evaluate how it stacks up against its earlier version.
In addition to the VTX and camera, the Walksnail Avatar HD Mini 1s Lite Kit includes the following accessories:
A whip (dipole) antenna: This lightweight antenna is designed to keep the overall weight of the kit down.
A USB cable: This cable is used for accessing the 8GB internal memory of the video transmitter. It's also required for firmware update. The USB cable has a smaller connector than the previous version, making the previous USB cable incompatible.
Mounting hardware: The kit comes with extra screws and rubber grommets that can be used to mount the video transmitter board to your drone.
Features and Upgrades from the Previous Version
The Walksnail Avatar HD Mini 1S Lite Kit serves as an enhanced version of the original Walksnail Avatar HD 1S Mini. Throughout this review, I might refer to the new Lite version as "V2" and the original version as "V1" for ease of understanding. However, it's important to note that Walksnail doesn't officially recognize the new version as "V2".
Key features include:
Compact and lightweight design, making it suitable for smaller drones
A high-resolution video transmitter that provides clear and immersive FPV (First Person View) experience.
8GB of onboard storage for recording HD flight footage without break-up.
Notable changes from the previous Avatar HD 1S Mini Kit:
Smaller and lighter design without compromising on performance by redesigning the board and using a lighter camera. But it still has the same 25.5×25.5mm mounting.
Smaller connector for the USB cable.
The connector for power and UART is removed, which is replaced it by a cable
Specifications
One of the main improvements in the Walksnail Avatar Mini 1S Lite Kit is its reduced weight. The original Mini 1S kit weighed in at 10.5 grams, while the new Lite version comes in at 8.7 grams, saving about two grams in total. This weight reduction is significant for micro drones, as it can improve flight performance and increase flight times.
It still offers the same 1080p HD FPV capabilities, which is impressive given its minimal weight. The kit supports an input voltage range of 3.1V to 5V. It has an advertised latency of 22 milliseconds and features OSD canvas mode support for Betaflight, iNav, FETtec, Ardupilot, and KISS OSDs.
The Walksnail HD Mini 1S Lite Kit comes with built-in 8GB storage and records 1080p or 720p HD footage directly onto that memory. The maximum output power is 350mW, and the kit is shipped with a lightweight linear dipole antenna.
Avatar Lite Camera
Image Sensor 1/2.7"1nch
Resolution 1080P/60fps,720P/120fps,720P/60fps
Ratio 16/9 4/3
Lens 2.1mm
FOV 170°
Aperture F2.0
Shutter Rolling Rolling shutter
Min.Illumination 0.001Lux
Weight 1.8g
Dimensions 14*14*16mm
Avatar Mini 1S Module
Communication Frequency 5.725-5.850GHz
Transmitter Power (EIRP) FCC:<25.5dBm;CE:<14dBm;SRRC:<20dBm;
MIC:<25dBm
I/O Interface JST1.0*6(Power in)JST0.8*4(USB)
Mounting Holes 25.5*25.5mm
Dimensions 30*30*6.5mm
Storage 8GB
Recording 1080p/720p
Weight 5.1g
Operating Temperature -20-40℃
Channels 8
Wide Power Input 3.1V-5V
Supported FC System Betaflight OSD Canvas mode
Bitrate 25mbps 50mbps
Latency Average delay 22ms
Antenna IPEX
1S Lite Antenna
Polarization: Linear
Frequency range 5600-5900MHz
Gain 1.6 dbi
VSWR ≤1.5
Input Impedance 50Ω
Interface IPEX-1
Size R 5mm,L 70mm
Weight 0.5g
A Lighter Camera with a Few Trade-offs
The camera included in the Mini 1S Lite Kit has undergone some modifications, now sporting a minimal housing that reduces its weight to a mere 1.8 grams. However, this design change also means that mounting holes for the drone canopy are now removed. To address this, you might have to 3D print your own mount for this camera, or use a new drone canopy designed for this camera.
In my opinion, Walksnail should have included a camera mount and supporting hardware in the kit, as not everyone will have access to a suitable mount. The ideal mount should be lightweight and easy to install. Unless Tinywhoop manufacturers take on the task, for now, I suppose we can only resort to gluing the camera to the existing canopies. And with the lens protruding, protecting it from crashes can be a challenge in some situations. But hey, it's lighter! And if you prefer the original nano camera, I believe it's still available.
The Board:

 

Redesigned for Compactness
The Walksnail Avatar Mini 1S Lite Kit features a redesigned board layout, with some components rearranged to accommodate the new design. The Lite Kit continues to offer 720p and 1080p recording, up to 350mW transmission, and 8GB of onboard storage.
Interestingly, the PCB board in the V2 is actually slightly thicker, which I believe is due to an increased PCB layer count. This allows for a smaller overall PCB size while still accommodating all components. Additionally, this could contribute to better crash-durability, as well as heat dissipation, which may be crucial since there is no heatsink on the chip. The smaller board should fit in a wider range of micro drone frames.
Image Quality: A Closer Look at the Differences
At first glance, the two cameras appear very similar in terms of image quality. To notice the differences, I had to put them side by side for comparison.
The Lite Camera has a marginally smaller FOV and a slightly softer image. When watching in the goggles, it's challenging to discern the differences. Aspects such as color, contrast, white balance, and exposure changes to lighting conditions are strikingly similar between the two cameras. The difference in image detail is only noticeable when you zoom in on a computer screen, demonstrating that the overall image quality remains quite comparable despite the weight reduction.
Final Thoughts: Weighing the Pros and Cons
While the weight savings of the Mini Lite seem impressive on paper, the lack of a camera mount could potentially counterbalance those savings. The burden of mounting the camera now falls on the end-user, which may add bulk, weight, and hassle. The original Nano camera might be a preferable option for some pilots, not only for the easier mounting, but also its slightly sharper image. However, if weight is a critical factor for you, the Lite Camera is a great option.
In conclusion, the Avatar Mini Lite Kit offers some advantages for hardcore weight savers and those seeking a smaller physical size. Unfortunately, a mounting solution for the camera is not included, so you'll need to find or create your own solution.
Article Source:https://oscarliang.com/