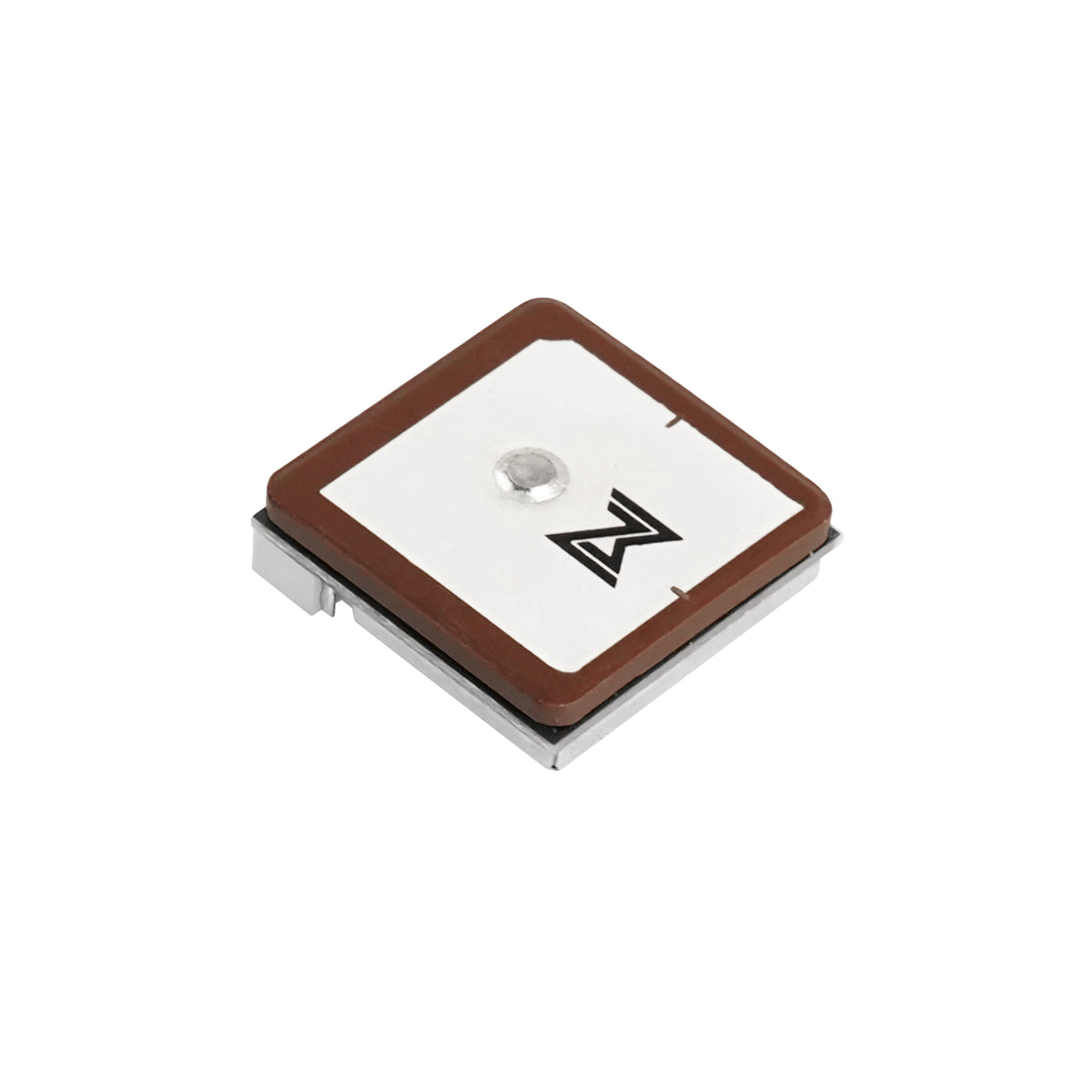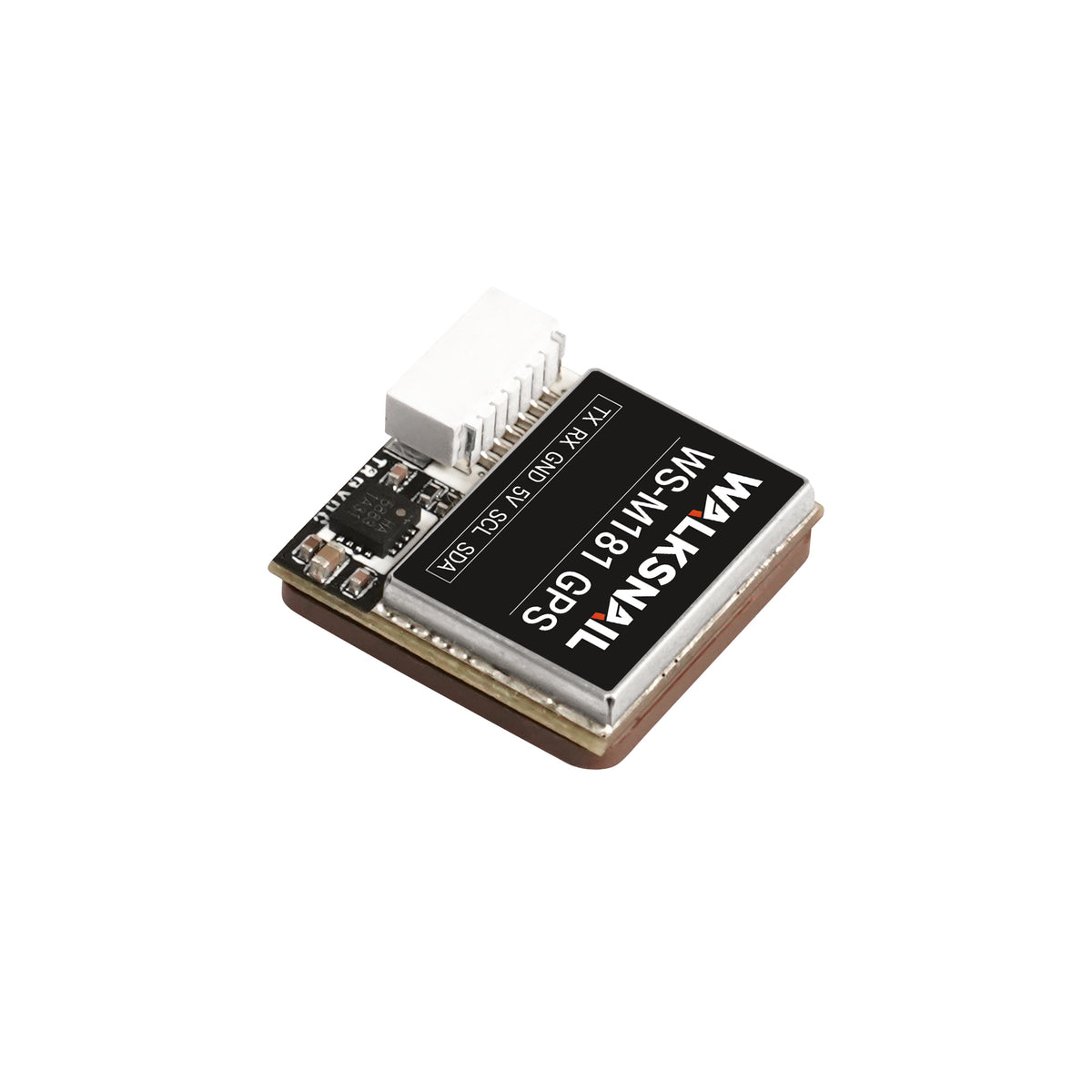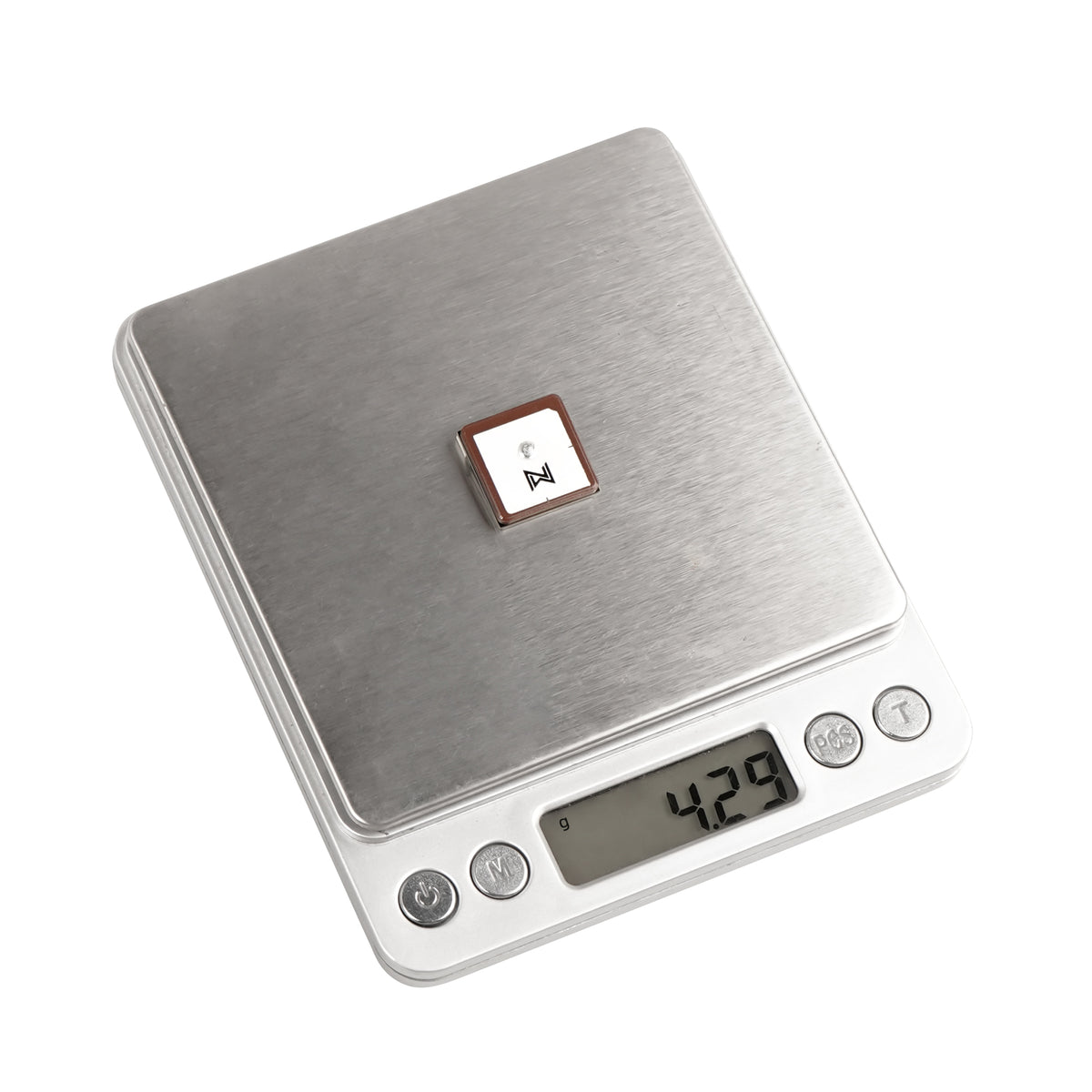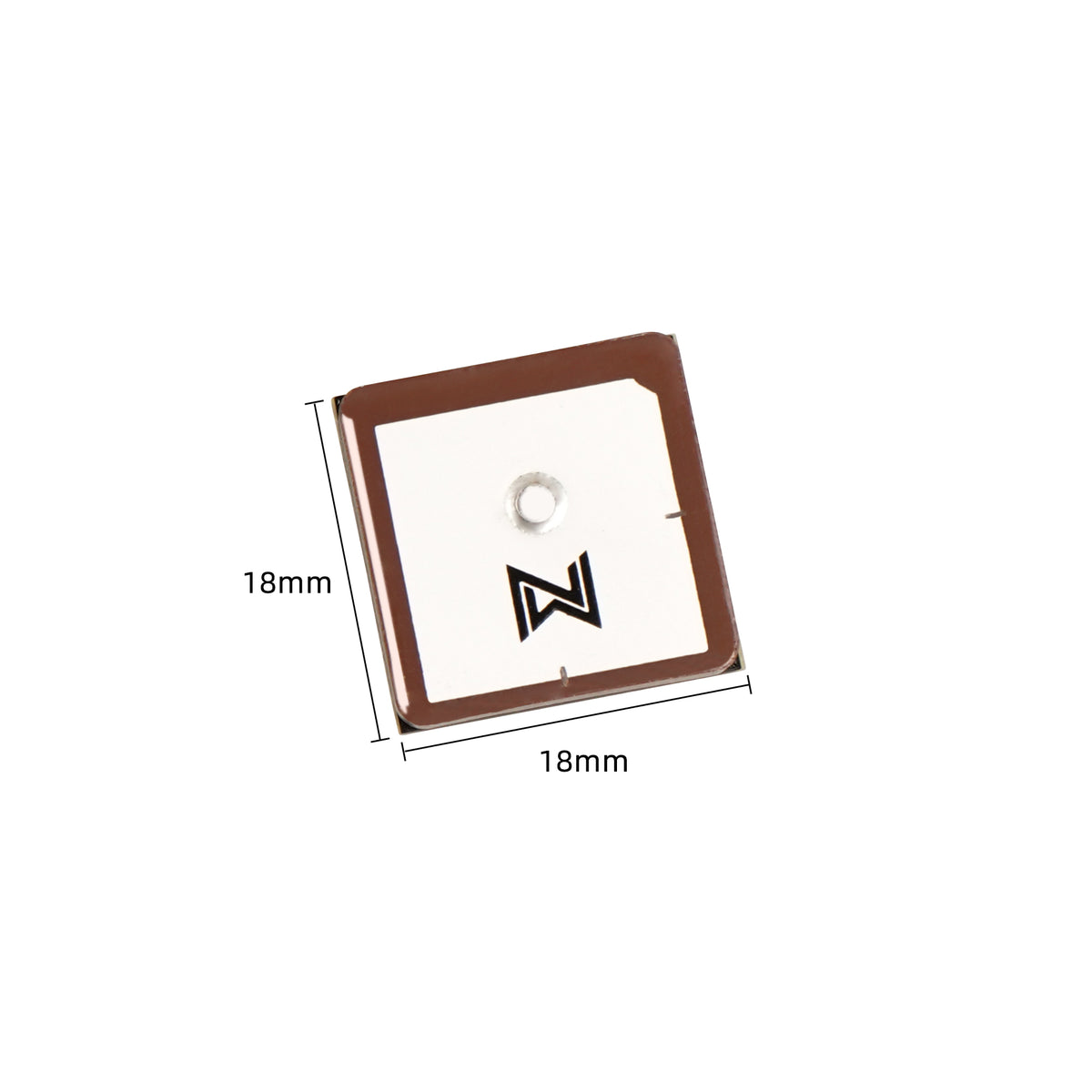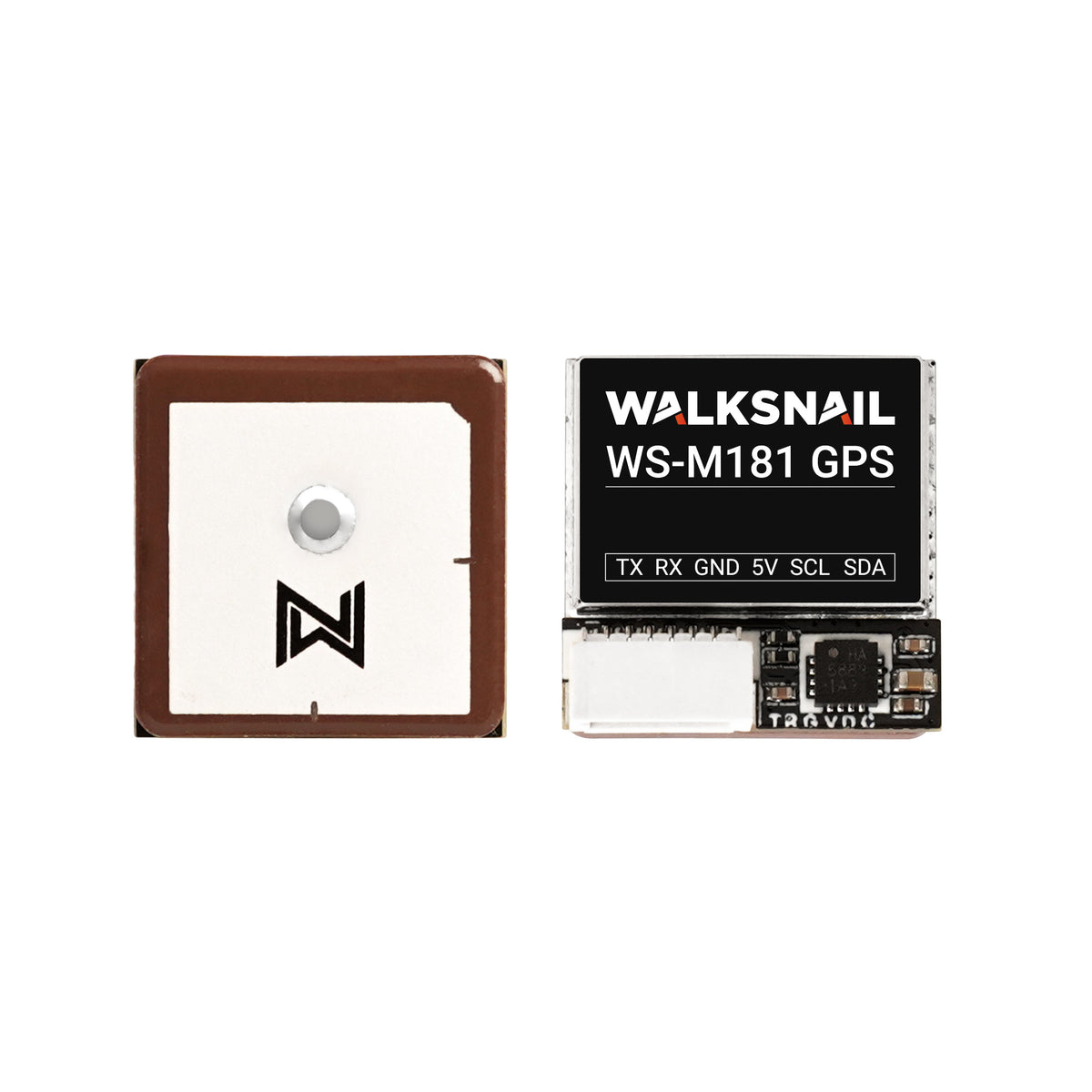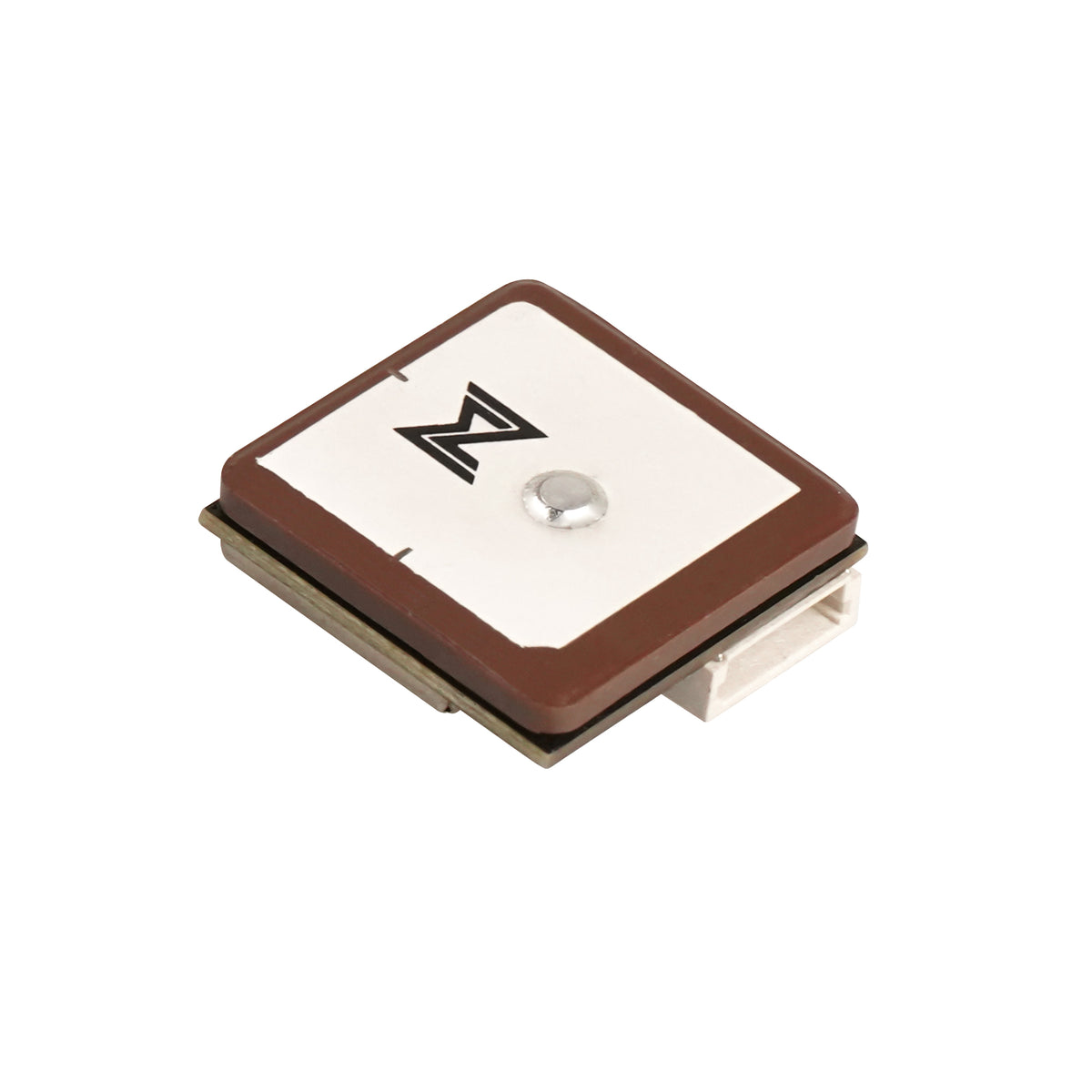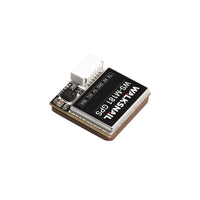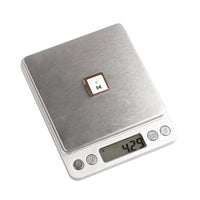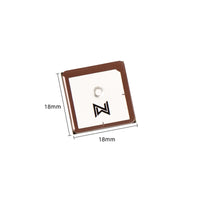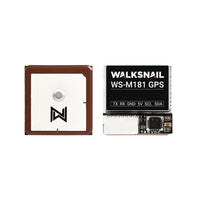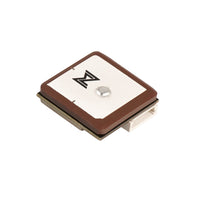 Walksnail WS-M181 GPS
Regular Price

$16.99

Sale Price

$16.99

Regular Price

$16.99

Unit Price

per
 Bullet Point
With small size, light weight, fast positioning, and stable connection. It is suitable for FPV, RC airplane, quadcopter and others to enhance the flight experience.
Featuring the u-blox M10 platform UBX-M10050 GNSS chipset and BUILT-IN QMC5883 MAG, the module offers stronger performance and more accurate positioning.
The ultra-thin ceramic antenna uses a special spray painting process to prevent oxidation and scratching, ensuring consistent positioning performance.
The built-in battery can realize hot start and realize positioning quickly.
It offers six positioning modes, providing more flexible combinations (default GPS + GLONASS + BDS multi-mode positioning).The measured maximum number of search sats can cover 32pcs.
Note:
Because the GPS chip is a new 10th generation chip, the flight controller needs to flash firmware Betaflight  4.3.0 and above, and the firmware below 4.29 uses the NMEA protocol.
Specification
name
Walksnail WS-M181GPS
Chip:
M10 (ten generation chip)
Frequency:
GPS L1,GLONASS L1,BDSB1,GALILEO E1,SBAS L1.QZSS L1
Power:
5V
Size: 
18mm*18mm*4.6mm
Antenna:
ceramic antenna (oil spraying process, prevent scratching and oxidation)
Receiving channels:
72 search channels
Compass:
QMC5883
Baud rate:
115200dps
Output protocol:
NMEA UBLOX (dual protocol)
Output frequency:
1Hz-10Hz, Default 10Hz
Speed accuracy:
0.05m/s
Horizontal positioning accuracy:
2D ACC1.5m(open air)
Receiving sensitivity:

Trace-162dBm

Capture -160dBm

Dynamic characteristics:
Altitude:
50000m
Speed:
500m/s
Acceleration:
4G
Operating temperature:
-40℃-+85℃
Storage temperature:
-40℃-+105℃
Shipping
At CADDXFPV, Our mission is to provide quality FPV accessories to pilots around the world at truly affordable prices. Let you feel the fun of FPV.
Your equipment may be coming from Shenzhen, China, depending on the equipment purchased. Your specific delivery date will depend on the dispatch country and delivery address.
If you can't place an order, it doesn't mean we can't ship to your address, it may be caused by platform issues, please contact us
Most orders are eligible for free shipping for orders over $299. If the product is relatively large, such as goggles, we will not offer free shipping . Thank you for your understanding.
Regarding order processing and shipping times:
1、Most items are usually shipped within 2-3 working days. 
2、The logistics tracking number will be uploaded within 2~3 working days after shipment and notify you by email message.
If you do not receive the logistics tracking number within 5 working days after purchase, please contact: service@caddxfpv.com
3、Detailed country delivery times in most cases:
| | | |
| --- | --- | --- |
| North America | Standard shipping |  DHL/FedEx/TNT/UPS |
| United States | 10~20 days | 5~7 days |
| Canada | 8~15 days | 5~7 days |
| US hawaii | 20~30 days | 10~15 days |
| South America | Standard shipping | DHL/FedEx/TNT/UPS |
| Brazil | 11~25 days | 7~12 days |
| Chile | 13~20 days | / |
| Argentina | / | 10~15 days |
| | Standard shipping | DHL/FedEx/TNT/UPS |
| European Union | 8~15 days | 5~7 days |
| United Kingdom | 7~13 days | 6~10 days |
| Other Countries | Standard shipping | DHL/FedEx/TNT/UPS |
| Iceland | 15~20 days | 10~15 days |
Notes:
 Usually according to the address, the delivery time is a little different, the above is the average delivery time we send to the local country.
If the address where the order is placed is considered by the logistics provider to be a remote area, you need to pay the shipping fee again, and if the address that cannot be delivered, a refund will be made.
 If your address is a remote place/small island/archipelago, the delivery time needs to be extended by 5~10 days. You can also choose to contact: service@caddxfpv.com to find out whether the delivery can be successful.
If after 15 days, you have not received your package, please contact me, I will help you solve any problems.
If you are a country with strict customs, please choose standard shipping.
In the case of purchasing the same product, we will give priority to processing and delivery to customers who choose DHL/FedEx/TNT/UPS(Expedited Shipping).
On the first and last day of each month, our warehouse will check the inventory and will not process orders and deliveries.
We usually process orders and shipments from Monday to Friday. If you send us any messages on weekends, you may not get a timely response. Thank you for your understanding.
Countries to watch out for:
Israel: Unless you choose to buy accessories, you need to choose DHL/FedEx/TNT/UPS(Expedited Shipping) for delivery.
Indonesia、Chile、Brazil、Turkey and Argentina need to provide a tax ID number, please remember to fill in the relevant tax ID number in the second column of the address
South Africa requires a personal identification number.
India: We are able to ship normally to this country

South Korea: Customs clearance code, Korean name and phone number are required, and these information need to be consistent with the registration information
You can apply for it from the below link if you do not have one.
https://unipass.customs.go.kr/csp/index.do
4、We do recommend allowing up to 3 weeks for your order in peak times, such as a special offer、promotion or new product . Delivery times are beyond our control but rest assured, we only work with reliable manufacturers and suppliers to provide you with the best possible service.
How do I track my order?
Your delivery confirmation email will contain your tracking number and order details. 
You can find Track Your Order on this website to check the delivery status of your order or you can also put your order tracking number in the following URL
Taxes and other charges
Depending on the country of delivery, you may be required to pay extra tax or charges such as VAT and/or import duties.We can normally deliver products to most countries, if you are not sure, please contact us.
If you choose the standard shipping option, the package is tax-included (suitable for most areas, except for remote areas and special cases)
If you choose DHL/FedEx/TNT/UPS shipping, you need to pay extra tax, but the delivery is faster.
If it shows that it cannot be delivered to the delivery address you filled in, please contact me, and I will re-check and set the corresponding regional delivery content.
If you have any questions or concerns about your order,
Please contact :service@caddxfpv.com

If you have any questions or concerns about the product or after-sales service,
Please contact :support@caddxfpv.com

Our team will assist you with any assistance during the working day.
Much better now!
Thought I got a bad unit at first. Flywoo LR4 with Walksnail Avatar. Was only getting five sats. I shielded my GPS cable and got it out from under the Vtx. Mounted the unit on top of the battery. Got a few more sats. No where near 30. Ordered a couple extra GPS units and put one on. Way better … averaging 25 sats. all the time now. I've tested GPS rescue about ten times in different locations so far. Lands 6 to 10 feet from takeoff. Pretty cool ! Thanks Caddx. I chose Walksnail because I'm blind in one eye and no goggles work for me. I fly with a mini HD monitor … needed HDMI output . Having so much fun surfing the mountains in HD !
M181 GPS..
A small GPS with a fast lock and 28 Sats here in the UK....I bought another, it's very good....😀😀🇬🇧
The best system HD !!! Thx Caddx & WS !
Fast delivery, packaged well!
No complaints, waiting with updating the vtx until a stable firmware is available.
Super fast lock, even indoors.
I'm using this GPS connected to the Speedybee F405 Wing APP flight controller, mounted in a 3D printed wing. I'm using iNAV and on the first power up, indoors I got 6 sats before I could even think about the time it took to lock on the them. The ONLY issue I've had is the GPS will not lock on any sats if it is within 5cm of the receiver (Radiomaster R161) and mounted between the two antennas. Move everything around and it has no issues.
Also, if you happen to get an older model of this GPS, the SCA & SCL pins are wrong on the sticker, just swap them in your plug and you'll be fine (if you plan on using the compass).
Overall I'm highly impressed with this unit.