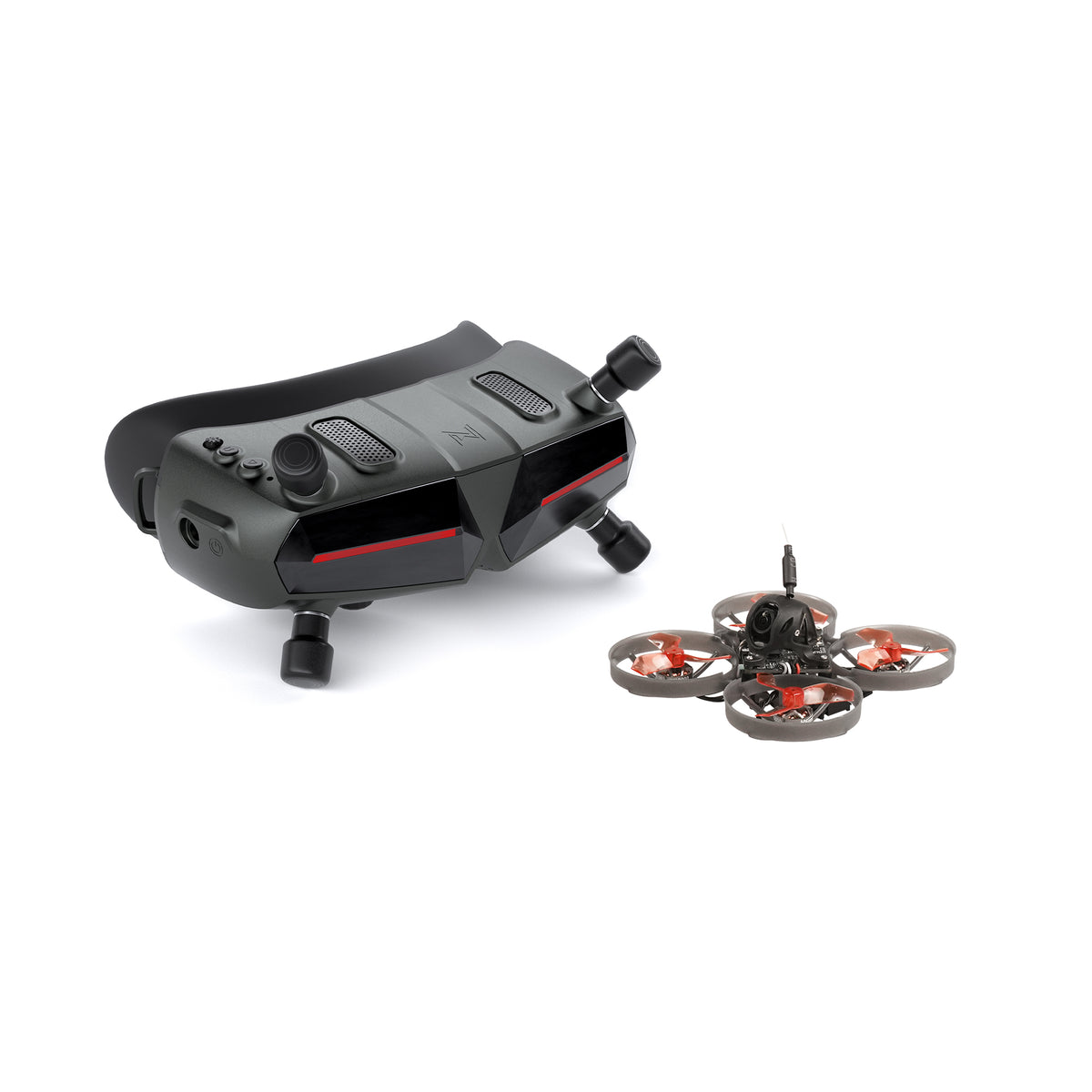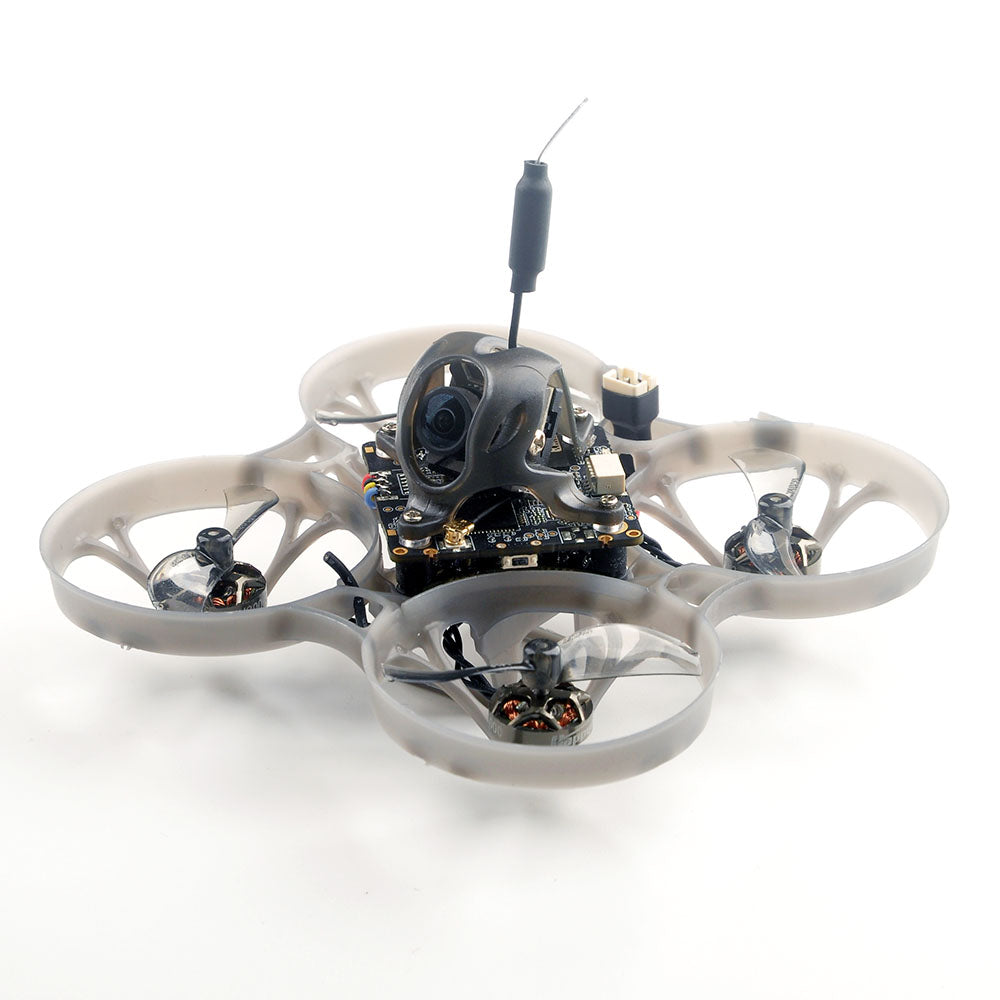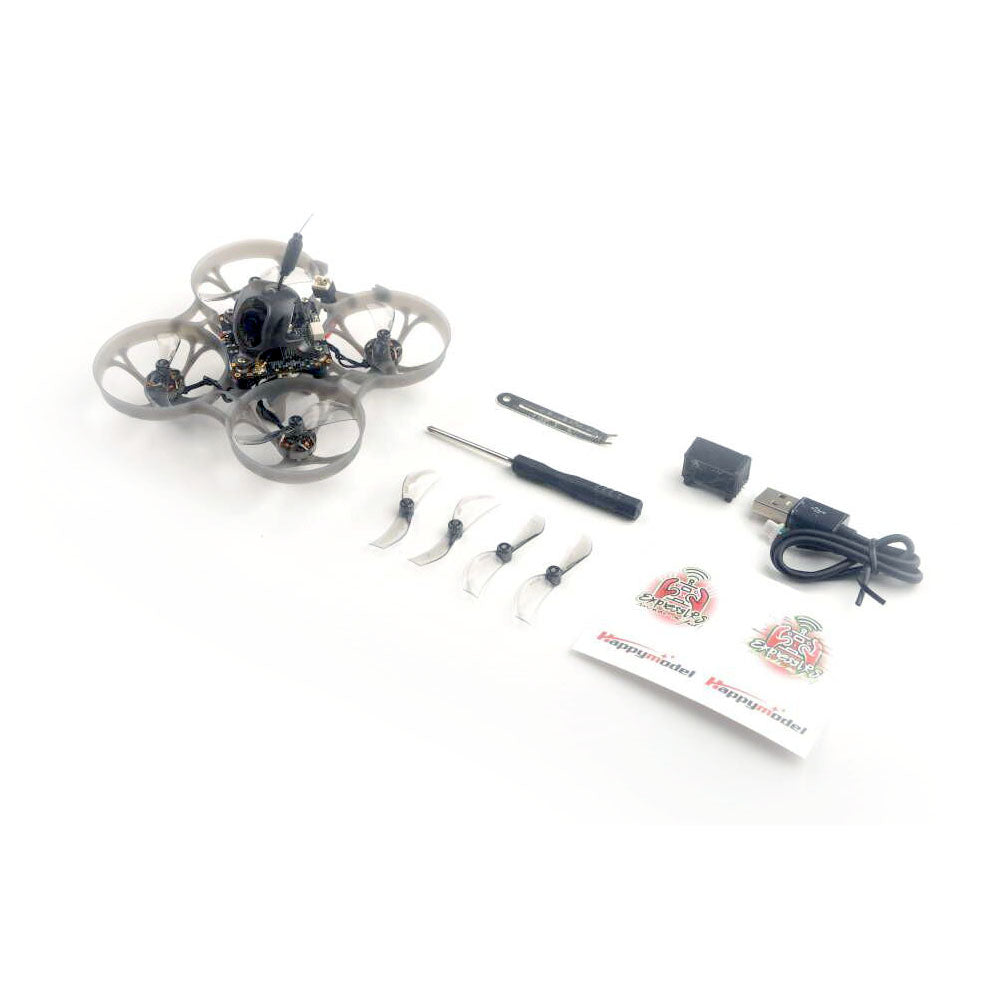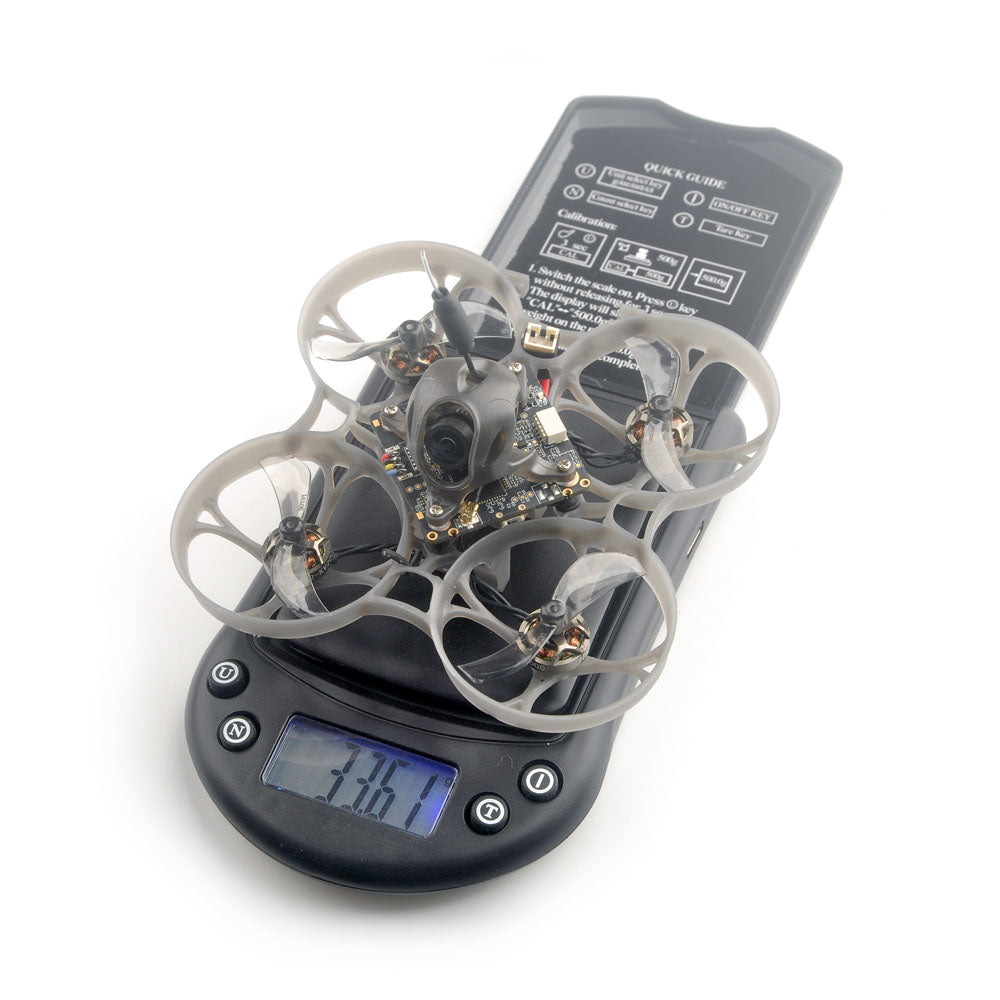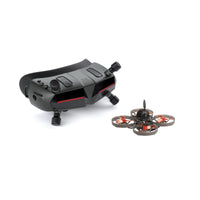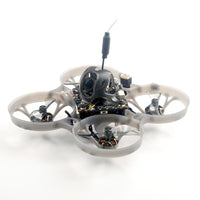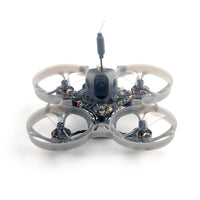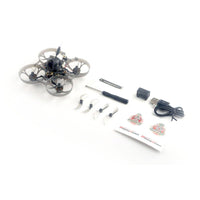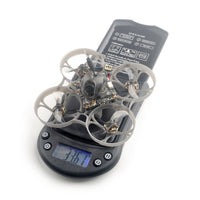 Walksnail Avatar System X Happymodel Moblite7 1S 75mm
Regular Price

$519.00

Sale Price

$519.00

Regular Price

$674.00

Unit Price

per
 Learn more about Walksnail Avatar HD Goggles X 
Notes: Recommend use the battery with lead wire, both A30 and BT2.0 plug battery are compatible. 
Specifications:
Brand Name: Happymodel
Model: Moblite7 Walksnail V3
Frame wheelbase: 75mm
Weight: 34.5 gram without battery
Size: 98mm*98mm*48mm
UART ELRS v3.0 ready
Compatible with 1S Lipo battery or Lihv battery
Battery Plug: GNB A30
Onboard blackbox ready
Package includes:
| | |
| --- | --- |
| Item Name | Qty |
| Mobula7 v4 75mm frame +Canopy | 1 |
| SuperX HD ELRS AIO flight controller | 1 |
| Happymodel 1002 KV20000 Unibell brushless motor | 4 |
| Gemfan 1610-2 bi-blades propeller(4cw+4ccw) | 1 |
| Walksnail Avatar nano HD camera | 1 |
| Walksnail Avatar mini 1s tx module | 1 |
| Spare Canopy | 1 |
| Propeller disassemble tool | 1 |
| Screw driver | 1 |
Flight controller

 


SuperX HD ELRS

Betaflight 4.4.2 firmware ready
Firmware target: CRAZYBEEF4DX
MCU:STM32F411CEU6 (100MHz, 512K FLASH)
Sensor: BMI270 or ICM42688P (SPI connection)
Power supply: 1-2S Lipo Lihv battery input (DC 2.8V~8.7V), only support 1s input for this drone
Built-in 12A(each) Blheli_S 4in1 ESC Dshot300 read
Built-in UART elrs receiver , elrs v3.0 ready, support WIFI and pass-through firmware update
Bluejay ESC Firmware ready
Built-in 5V 1A BEC
Built-in voltage detection
No betaflight analog osd chip
Onboard 4in1 ESC
Power supply: 1-2S LiPo/LiPo HV
Current: 12A continuous peak 15A (3 seconds)
Support ESC-Configurator and BLHELI_S Suite configurator
Factory firmware: Z-H-30 – Bluejay, 0.19, 48kHz
Default protocol: DSHOT300
Onboard UART ExpressLRS 2.4GHz Receiver
RF Frequency: 2.4GHz
Antenna: enameled copper wire 31mm length
Telemetry output Power: <12dBm
Receiver protocol: CRSF
Default firmware version: ExpressLRS V3.0.1
The same hardware with Happymodel EP1 receiver
Could update firmware via ExpressLRS configurator or WIFI or Betaflight pass-through
Motor
Model: 1002 20000KV
Configu-ration:9N12P
Stator Diameter:10mm
Stator Length:2mm
Shaft Diameter:Φ1.5mm
Motor Dimension(Dia.*Len):Φ13.5mm*12.5mm
Weight(g):2.5g
No.of Cells(Lipo):1S only
Propeller Gemfan 1610-2 Bi-blades
Weight:0.24g
Material: PC
Pitch:1 inch
Props Dia:40mm
Center Hole Dia:1.5mm
VTX
Model: Avatar mini 1s module
Communication Frequency: 5.725-5.850 GHz
Transmitter Power(EIRP): FCC:<25.5dBm; CE:<14dBm; SRRC: <20dBm;MIC:<25dBm
l/o Interface: JST1.O*6(Power in)JST1.O*4(USB)
Mounting Holes: 25.5*25.5 mm
Dimensions: 33*33*6.5 mm
Storage: 8G
Recording: 1080p/720p
Weight: 6.8 g
Operating Temperature: -20-40℃
Channels: 8
Wide Power lnput: 3.1V-5V
Supported FC System: Betaflight
OSD: Canvas mode
Bitrate: 25mbps / 50mbps
Latency: Average delay 22ms
Antenna connector: IPEX
Camera

Model: Avatar nano
lmage Sensor: 1/2.7"Inch
Resolution: 1080P/6Ofps,720P/120fps,72OP/6Ofps
Ratio: 16/9 4/3
Lens: 2.1mm
FOV 170°
Aperture: F2.0
Shutter: Rolling shutter
Min.Illumination: 0.001Lux
Weight: 3.5g
Dimensions: 14*14*17mm
Coaxial Cable: 45mm
Note:
Default factory dump file:
Moblite7 Walksnail 1S 75mm digital HD brushless whoop v3 dump file
Q: When will it be shipped?
A: In order to give pilots a better experience, the optical part of the goggles requires a longer production time, And the goggles are produced in lower quantities. Currently, each order will be shipped within 15 days.
Shipping
At CADDXFPV, Our mission is to provide quality FPV accessories to pilots around the world at truly affordable prices. Let you feel the fun of FPV.
Your equipment may be coming from Shenzhen, China, depending on the equipment purchased. Your specific delivery date will depend on the dispatch country and delivery address.
If you can't place an order, it doesn't mean we can't ship to your address, it may be caused by platform issues, please contact us
Most orders are eligible for free shipping for orders over $299. If the product is relatively large, such as goggles, we will not offer free shipping . Thank you for your understanding.
Regarding order processing and shipping times:
1、Most items are usually shipped within 2-3 working days. 
2、The logistics tracking number will be uploaded within 2~3 working days after shipment and notify you by email message.
If you do not receive the logistics tracking number within 5 working days after purchase, please contact: service@caddxfpv.com
3、Detailed country delivery times in most cases:
| | | |
| --- | --- | --- |
| North America | Standard shipping |  DHL/FedEx/TNT/UPS |
| United States | 10~20 days | 5~7 days |
| Canada | 8~15 days | 5~7 days |
| US hawaii | 20~30 days | 10~15 days |
| South America | Standard shipping | DHL/FedEx/TNT/UPS |
| Brazil | 11~25 days | 7~12 days |
| Chile | 13~20 days | / |
| Argentina | / | 10~15 days |
| | Standard shipping | DHL/FedEx/TNT/UPS |
| European Union | 8~15 days | 5~7 days |
| United Kingdom | 7~13 days | 6~10 days |
| Other Countries | Standard shipping | DHL/FedEx/TNT/UPS |
| Iceland | 15~20 days | 10~15 days |
Notes:
 Usually according to the address, the delivery time is a little different, the above is the average delivery time we send to the local country.
If the address where the order is placed is considered by the logistics provider to be a remote area, you need to pay the shipping fee again, and if the address that cannot be delivered, a refund will be made.
 If your address is a remote place/small island/archipelago, the delivery time needs to be extended by 5~10 days. You can also choose to contact: service@caddxfpv.com to find out whether the delivery can be successful.
If after 15 days, you have not received your package, please contact me, I will help you solve any problems.
If you are a country with strict customs, please choose standard shipping.
In the case of purchasing the same product, we will give priority to processing and delivery to customers who choose DHL/FedEx/TNT/UPS(Expedited Shipping).
On the first and last day of each month, our warehouse will check the inventory and will not process orders and deliveries.
We usually process orders and shipments from Monday to Friday. If you send us any messages on weekends, you may not get a timely response. Thank you for your understanding.
Countries to watch out for:
Israel: Unless you choose to buy accessories, you need to choose DHL/FedEx/TNT/UPS(Expedited Shipping) for delivery.
Indonesia、Chile、Brazil、Turkey and Argentina need to provide a tax ID number, please remember to fill in the relevant tax ID number in the second column of the address
South Africa requires a personal identification number.
India: We are able to ship normally to this country

South Korea: Customs clearance code, Korean name and phone number are required, and these information need to be consistent with the registration information
You can apply for it from the below link if you do not have one.
https://unipass.customs.go.kr/csp/index.do
4、We do recommend allowing up to 3 weeks for your order in peak times, such as a special offer、promotion or new product . Delivery times are beyond our control but rest assured, we only work with reliable manufacturers and suppliers to provide you with the best possible service.
How do I track my order?
Your delivery confirmation email will contain your tracking number and order details. 
You can find Track Your Order on this website to check the delivery status of your order or you can also put your order tracking number in the following URL
Taxes and other charges
Depending on the country of delivery, you may be required to pay extra tax or charges such as VAT and/or import duties.We can normally deliver products to most countries, if you are not sure, please contact us.
If you choose the standard shipping option, the package is tax-included (suitable for most areas, except for remote areas and special cases)
If you choose DHL/FedEx/TNT/UPS shipping, you need to pay extra tax, but the delivery is faster.
If it shows that it cannot be delivered to the delivery address you filled in, please contact me, and I will re-check and set the corresponding regional delivery content.
If you have any questions or concerns about your order,
Please contact :service@caddxfpv.com

If you have any questions or concerns about the product or after-sales service,
Please contact :support@caddxfpv.com

Our team will assist you with any assistance during the working day.
Amazing
An incredible drone, works perfect.
Great Kit
Walksnail is just great. I own several 1S mini VTX and i love how i can fly my small drones in digital quality.
I fly DJI (V2s ) and Analog but Walksnail is just better than both, it's cheaper than DJI, has better penetration and quality (than V2).
About the Moblite 7 1S: after fixing filters and pids flies great, stock tune is rubbish but once you retune it, it's a perfect 1s quad. Much more powerful than a mobula7 1s analog thanks to the bigger motors. Perhaps i will upgrade it to 45mm props to get even more power.
Fantastic
Constant updates, great image quality and range, what else Could you ask for?
Excellent!
I am impressed. The quality of the video in the goggles with the OLED screens is really good! The video is bright and crisp, and very detailed. It looks better than my old DJI goggles. There is a clear difference between OLED and LCD screens. OLED is by far much better.
I am using the 1S VTX with the nano cam, and sometimes the color goes off into some reddish/orange tones. I'm sure a firmware update will fix that. I love the Crystal clear digital video in my whoops. The video that you get off the VTX DVR is some of the best I have ever seen from a DVR. The goggle DVR is very good too.
I wear glasses, and the focus adjustment on the goggles is not perfect. I can get it in focus to view ok, but the fine tuning is not the best. In comparison, I have the Skyzone 04X V2 goggles, and the focus adjustment on those is perfect. The new 1S VTX is awesome for tiny whoops, and I got these goggles for whoops in the first place. Unfortunately the Happy Model Moblite7 flight controller has gone bad, which I am not surprised since I have a bin full of failed Happy Model flight controllers, but thats not the fault of CaddxFPV. All in all I am good with these goggles and will be buying more VTX's for these for sure.